DICE has been expanding its hype for Battlefield V now that the open beta has officially kicked off (for those who didn't pre-order or aren't Origin Access members) but now we're finding out more details about Firestorm, the new battle royale mode for Battlefield V.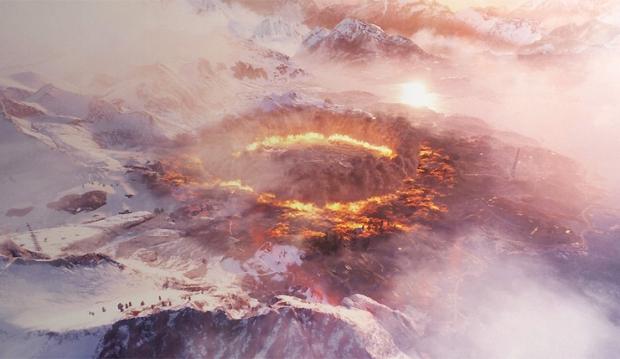 DICE teamed up with developer Criterion Games, the studio behind Burnout and the not-so-great Battlefield Hardline for Firestorm. DICE worked on the single and multiplayer sides of Battlefield V, while Criterion handled the battle royale mode that is infused with everything that makes Battlefield great.
Firestorm will see you battling it out on the biggest Battlefield map ever created, with a ring of fire surrounding you, your squad, and all of the enemies for an "all-out war for survival" with up to 16 squads of up to 4 players each.
The developer took to the official Battlefield website to explain Firestorm, with more details than ever before, and more details to come as we get closer to the official launch of Battlefield V:
Wage war in a ring of fire that slowly shrinks the battlefield - don't get trapped

Fight to be the last infantry squad standing of 64 players in 16 squads

The game-changing addition of Battlefield vehicles lets you wipe out unsuspecting squads with a tank or drive to survive with transport vehicles

Work together as a squad to secure objectives that grant better and rare gear

Clash on the biggest Battlefield map to date

Transform the map with Destruction

Feel battle royale brought to life with stunning Battlefield graphics and audio

Matches are tied to your Company and Battlefield V progression
Battlefield V won't just be throwing gamers into a large map and have them battling it out in the winner-takes-all glory that battle royale is all about, as there are Firestorm objectives to take care of. The objectives are similar to those found in the infamous Conquest mode, with some objectives at fixed locations, and some are random.
There are varying weapons, vehicles, and supplies that you'll have to secure with your squad throughout the objectives in Firestorm. You'll be battling it out to unlock new gear, something that will help you get to the end and win the round.
In Firestorm you'll drop to the biggest Battlefield map ever with no weapons at all, so you'll need to find loot and get weapons to take down your enemies. Once you've got some guns and ammo, you'll need to lock down objectives.
In a traditional round of Battlefield, players in a squad would roll up to an objective and just secure it - but now you'll be spawning in with no weapons and fighting other squads for not just weapons, but control of the important objectives.
This is where vehicles and tanks amp up the Firestorm experience in Battlefield V, where you can dive into a Panzer tank and blow your enemies away, literally. You could get into a transport vehicle and get your squad into, or out of a battle with armored protection.
Battlefield V's upcoming Firestorm mode sounds like an exciting take on the battle royale genre, especially with the destruction on offer from the Frostbite engine. Personally, I think the destruction element of Battlefield V and its Firestorm mode will be the big game changer against Call of Duty: Black Ops 4 and its 'me too' battle royale addition, while it will be a big contender against the likes of PUBG and Fortnite.
EA and DICE will launch Battlefield V on November 9 if you're an Origin Access Premier member, November 15 if you ordered the Battlefield V Deluxe Edition with early enlister access, and November 20 for the Battlefield V Standard Edition.