Metro Exodus was one of the RTX showcase games during NVIDIA's huge reveal of the next-gen GeForce RTX 20 series graphics cards, and while we knew that the demo 4A Games showed off during the GeForce RTX 2080 Ti ran at 1080p 40FPS, we are finding out more details on included NVIDIA technologies.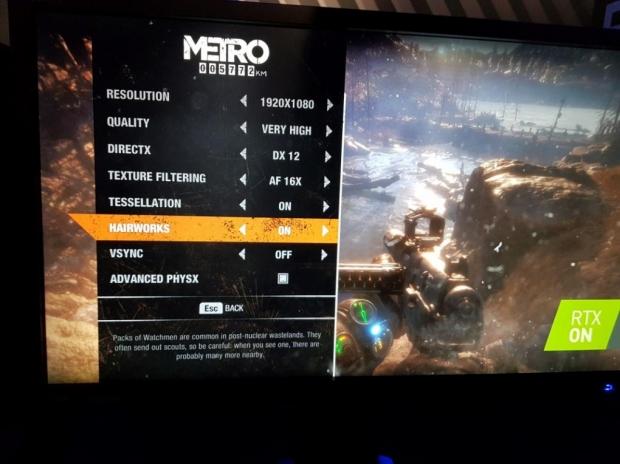 In an article by PCGamesHardware, the site talks about Metro Exodus and its technical prowess with and without NVIDIA's new RTX technologies. Metro Exodus will be an RTX-powered game, but it'll also include other NVIDIA technologies such as HairWorks and Advanced PhysX. HairWorks hasn't been used in too many games, with the latest one being Final Fantasy XV Windows Edition, and before that it was COD: Ghosts (2013), Far Cry 4 (2014) and The Witcher 3 (2015).
HairWorks puts a large strain on any graphics card, so it'll be interesting to see how the new Turing-based GeForce RTX 20 series graphics cards handle it. Maybe the new RT cores and deep learning technology can help out with performance and not bring it down so much when HairWorks is enabled. Because if gamers are turning on RTX, HairWorks and Advanced PhysX... it could bring the frames down below 30FPS, and that wouldn't be good at all, not on a new $1199 graphics card.
PCGamesHardware does note that the RTX-powered version of Metro Exodus running on the GeForce RTX 2080 Ti was only pushing 40FPS at 1080p, but with real-time ray tracing effects on a card in 2018, that's impressive for how good it looks with RTX turned on. The site said (after Google Translate): "the entire scene also has a much more authentic effect due to the soft, realistic light transitions, subtle-realistic color transfers and their dynamics as well as the subtle illumination and shading of small details (Global lighting and ambient occlusion are basically closely related and fundamentally similar the respective counterpart of the other technique, which most likely makes the calculation of both effects together relatively efficient).
4A Games was running two separate demos of Metro Exodus; one on the GeForce GTX 1080 Ti running at 4K with "largely pleasant liquid frame rates" says PCGamesHardware, while the RTX demo was running at 1080p on the next-gen GeForce RTX 2080 Ti and was "still just playable".