Anthem's dialog limited to two choices, BioWare explains why
Anthem's conversation system is quite limited, but that's by design.

Published Mon, Sep 3 2018 4:43 PM CDT
|
Updated Tue, Nov 3 2020 11:50 AM CST
BioWare explains why Anthem's two-choice conversation system is quite condensed and how it can potentially affect gameplay and NPC relationships.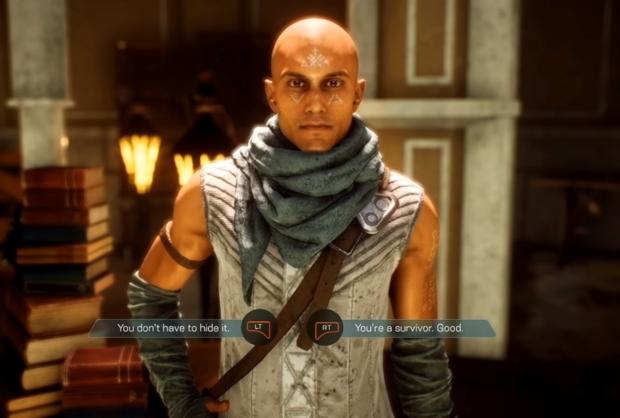 In many ways Anthem aims to redefine BioWare games. Mostly known for rich singleplayer RPGs with expansive dialogue, Anthem is an action-based online multiplayer game that scraps Mass Effect's conversation wheel in favor of a more streamlined binary system. Gamers will only be able to pick two dialog options when talking to NPCs, but the studio says Fort Tarsis--the home to all mission-doling agents and NPCs--will change based on your decisions.
Game flow is one of the major reasons for Anthem's diminished dialog choice. BioWare says it wants to give action-oriented players a means of moving forward without necessarily being overwhelmed by conversation (as a live game it's important players are continually engaged and that BioWare caters to all sorts of fans).
"One of the things we're trying to get with My Story is allowing you to consume this content at your own pace. If you are someone who really wants to linger in the conversations and think about the choices you're making and explore these relationships, you can do it without keeping people waiting and they can go off and do other things," Anthem executive producer Mark Darrah said in a PAX West 2018 panel.
"But if you're someone who just wants to quickly get back into the action, you can move through these conversations very quickly and get back out into the open world."
Despite this limited dialog system, studio producer Mike Gamble says your choices will shape and mold relationships and ultimately the hub itself.
"So you see there's a left trigger and right trigger choice, so there is choice in the game, and the choice will have consequences depending on who you talk to and when you do."
"As you play through the game you build relationships with [Agents] and you learn more about who they are and their past. Tarsis will actually change based on mission progression."
"Player's conversations can chain into each other and affect how different people relate to each other inside of Fort Tarsis," lead level designer Victor Krengel affirmed.
(Continued below)
Read Also: Anthem is an evolution of everything BioWare's ever made
Right now it remains unclear how dynamic the relationship between dialog choices and NPC disposition actually is. BioWare goes on to say that Anthem's online infrastructure allows the studio to evolve both storytelling and the in-game world over time. This will undoubtedly organically bleed over into dialog in interesting ways.
Like any service game Anthem will continually change and grow based on player feedback and a consistent roadmap of fresh content updates. Your dialog choices will not only affect relationships in the short term, but could also dramatically affect both your personal story as well as those of NPCs and agents around you.
Each of Anthem's agents have their own characteristics and personality traits as well as faction allegiances that could end up clashing in some instances. The denizens of Fort Tarsis have story arcs that will change based on your decisions, too.
"One of the things the structure of the game lets us do is a lot more character storytelling after launch. In previous games, because of the content release structure, we didn't really know where you were in a relationship with a character, and it meant we had to write generically for characters," Darrah continued in the panel.
"But here we actually have a lot more ability to know where you are with the character and we can evolve and continue to grow these characters after launch and bring them into deeper and deeper progressions of their arcs."
Personally I'm a bit iffy about this promise of reactive storytelling and am curious just how much dialog will affect in-game missions and events. I'm hoping BioWare can live up to their promises and craft something truly unique this time around--but not so different than the great storytelling found in Mass Effect and Dragon Age games.
Anthem releases on February 22, 2019 on PS4, Xbox One and PC.
Related Tags