Shovel Knight coming to a store near you
Shovel Knight's trove of tremendous treasures will be sold in stores next April.
Published Aug 30, 2018 5:49 PM CDT
|
Updated Tue, Nov 3 2020 11:50 AM CST
1 minute & 49 seconds read time
Shovel Knight's full game and all of its accompanying DLC will soon be sold as a physical game on PS4 and Nintendo Switch, Yacht Club Games confirms.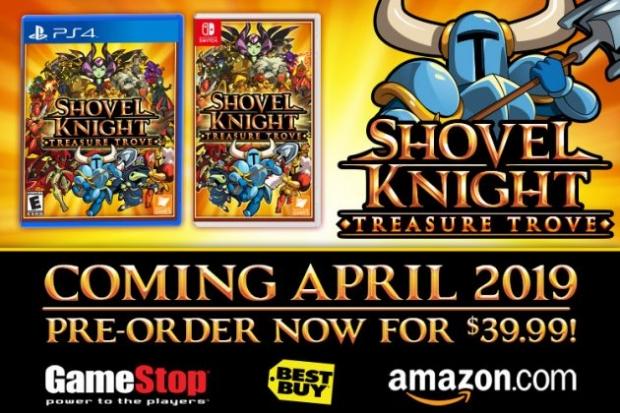 On the heels of Shovel Knight's new Super Smash Bros. style multiplayer mode, the devs behind the spry spade-wielder have announced a physical version of their darling indie hit. The boxed SKU will retail for $39.99, comes with the base game and every campaign/DLC to date, and is slated to launch on April 9, 2019. No Xbox One flavor has been confirmed.
There's more news to dig into, however: Shovel Knight's huge new King of Cards campaign will also release the same day as Showdown, the multiplayer mode, and the physical version. Since King of Cards is the last story mode for the game Yacht Club is going all out and confirms it's "by far our biggest and most grandest singleplayer campaign yet."
Both Showdown and King of Cards will be free for existing Treasure Trove owners and will be available for purchase separately, too. The digital Treasure Trove will remain at $24.99 for now but will increase to $39.99 come April.
During the release of Specter of Torment we received many requests to synchronize the update across each and every platform (there are quite a lot...!). For this most grand finale, we are going to do our best to make that happen! We hope everyone enjoys jumping into King Knight's adventure and battle mode together at the same time! Until then, there's plenty left for us to do across all of these games!

To accompany the final release of the game, the price of Shovel Knight: Treasure Trove has also risen. Why is that? Similarly to our pricing for Specter of Torment, we figured the immense size and addition of two new brand new games warrants the new price. The price of the digital version will also increase around this release. Until then you can still pick up the game digitally right now, if you want it at the cool, low price of $24.99! We'll also continue to offer digital standalone versions of each game separately on certain platforms.
Come April 9, 2019 Shovel Knight: Treasure Trove will include the following:
Shovel Knight: Shovel of Hope (base game)

Plauge of Shadows

Specter of Torment

King of Cards

Showdown (multiplayer mode)
Related Tags