NVIDIA unveiled a truly next-gen Turing GPU last week with three new cards: GeForce RTX 2070, RTX 2080 and the RTX 2080 Ti... but what about AMD? Well, the company has announced their new dual-GPU Radeon Pro V340 accelerator, and it's very interesting to say the least.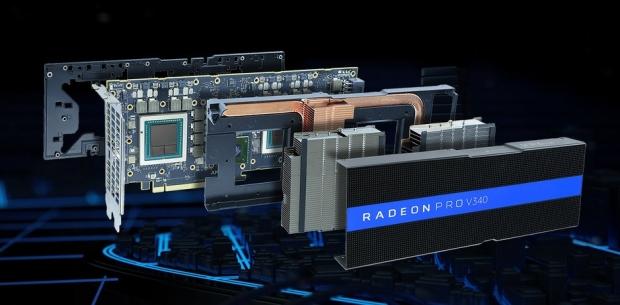 The new Radeon Pro V340 is a dual-GPU accelerator that uses the Vega architecture with 56 Compute Units per GPU, and a huge 32GB of HBM2 with Error Correcting Code (ECC). This is not a gaming card and something destined for workstations and servers. Radeon Pro GM Ogi Brkic explains: "As the flagship of our new Radeon Pro V-series product line, the Radeon Pro V340 graphics card employs advanced security features and helps to cost effectively deliver and accelerate modern visualization workloads from the datacenter".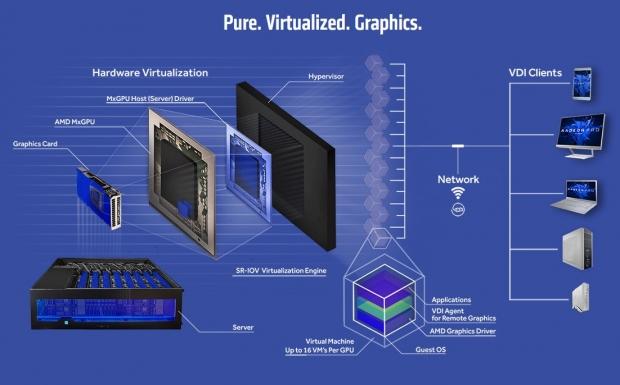 AMD is passively cooling the card which is thge most interesting thing here, and I'm actually a little blown away by this to be honest. The consumer Radeon RX Vega 56 and RX Vega 64 graphics cards have fans that even when spinning at 100% can't keep the card cool, as it drives past 80C even in a cool-operating environment. A passively cooled dual-GPU card is quite the engineering feat.
AMD has most likely clocked the Vega GPUs down heavily on the card, and I'm sure the ECC HBM2 has been down clocked as well. The company hasn't revealed any GPU or HBM2 clocks, nor is the TDP available. We are probably looking at 400-500W at the very least, considering Vega uses 300W without a problem in single gaming form with RX Vega 56/64.
Sheldon D'Paiva, director of Product Marketing at VMware chimed in with the announcement of the Radeon Pro V340, where he said: "The AMD Radeon Pro V340 graphics card will enable our customers to securely leverage desktop and application virtualization for the most graphically demanding applications. With Radeon Pro for VMware, admins can easily set up a VDI environment, rapidly deploy virtual GPUs to existing virtual machines and enable hundreds of professionals with just a few mouse clicks".
Calvin Hsu, the VP of Product Marketing at Citrix said: "With increased density, faster frame buffer and enhanced security, the AMD Radeon Pro V340 graphics card delivers a powerful new choice for our customers to power their Citrix Workspace, even for the most demanding applications".