After the reveal of the famous Donkey Kong Country villain, King K. Rool debuting to Super Smash Bros. Ultimate fans of the DKC series have come together to thank Smash director Masahrio Sakurai.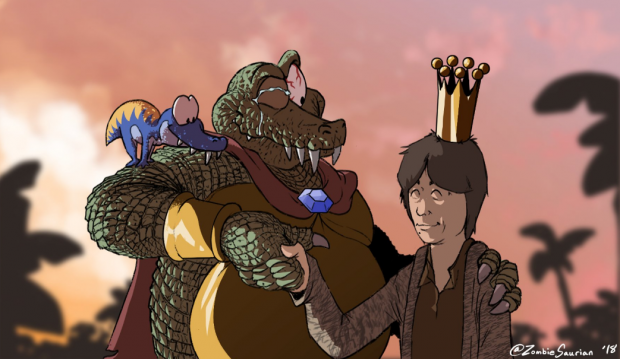 At the start of this month during the Super Smash Bros. Ultimate Direct, every fan of Donkey Kong Country and the Super Smash Bros. series was brought to their knees as their wishes for King K. Rool joining the fighting roster was fulfilled. King K. Rool began his iconic journey as one of Nintendo's most beloved villains back on the SNES with the original Donkey Kong Country. Since the release of Super Smash Bros., fans have been crying out for the master Kremlin to be added to the games fighting roster, and now that their wishes has been heard fans have come together to thank the game director.
It seems that all Donkey Kong Country fans and all Super Smash Bros. fans have collaborated in on a letter written to Masahrio Sakurai. The letter thanks the director on behalf of all fans for listening to the communities cries for wanting King K. Rool added to the roster. "On behalf of every Donkey Kong Country fan and King K. Rool supporter around the globe, thanks for listening to us, and thank for being such an amazing game director. Words alone cannot describe how happy we are. Thanks to his inclusion in Super Smash Bros. Ultimate, K. Rool will be forever immortalized as a Nintendo all-star, looking better than we acould have ever imagined. This moment is, quite literally, a dream come true."
In other news about King K. Rool's inclusion in Super Smash Bros. Ultimate, check out the gameplay video of the King being sized up by Konami's Snake, visit that here. Also, if you happened to miss the original plans for King K. Rools name check out that story here.