EA isn't sitting in a good spot with Battlefield V with the company starting off on the wrong foot with angered gamers over some of the choices they made within the setting of the game, to say the least. Now there's news of pre-order numbers being low, and that's not good at all.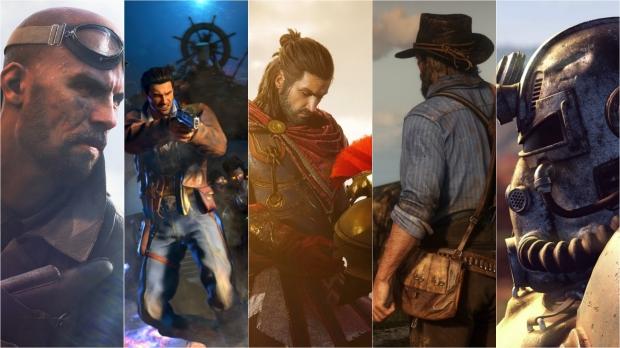 The company recently lost Patrick Soderlund, who was the ex-CEO of DICE until EA acquired the company back in 2006. Soderlund had high-up roles within EA after the transition, and is now leaving the company.
Now there's Sarah Needleman of the Wall Street Journal reporting that Cowen Group analysts have that that pre-order sales for Battlefield V "have been weak". These analysts are going by things said to them by EA connections, and if we look at someone as instrumental as Soderlund leaving EA two months before the launch of Battlefield V, one of EA's largest franchises... this does look weird.
The pre-order sales being low for Battlefield V isn't something the analysts at Cowen Group are alone with, as analysts over at Piper Jaffray seem to be onto the same data. Piper Jaffary has said that out of a survey of over 300 gamers rin the US to ask which game were they most interested in playing over the next 12 months, with Call of Duty: Black Ops 4 taking top position.
The full list was:
Call of Duty: Black Ops 4

Red Dead Redemption 2

Assassin's Creed Odyssey

Fallout 76

Battlefield V
The analysts also take into consideration the same five games on YouTube with the ratios of likes and dislikes, and RDR2 utterly dominates here, while Battlefield V is at the bottom of the heap. In this list we have: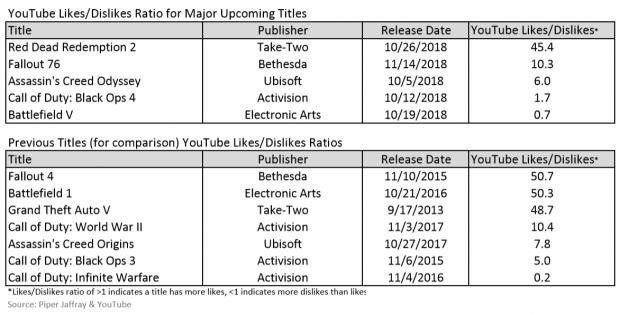 As you can see Red Dead Redemption 2 completely dominates YouTube likes/dislikes, with Fallout 76 not even coming close but doing incredibly well against the likes of COD: Black Ops 4 which I thought would be way higher on the list considering it's YouTube. Battlefield V is in really bad shape here, with it losing to every other game in great magnitudes as we lead up to RDR2's hype.
All of these games launch in just over a month of each other, with the following release dates:
Call of Duty: Black Ops 4 - 10/12/18

Red Dead Redemption 2 - 10/26/18

Assassin's Creed Odyssey - 10/5/18

Fallout 76 - 11/14/18

Battlefield V - 10/19/18