NVIDIA edges closer to the unveiling of their next-gen graphics cards and one of the craziest rumors of them all have hit: the company will reportedly use a dual-fan, open-air cooler on their purported GeForce GTX 1180/2080 graphics card. Don't forget to enter our GeForce GTX 1180/2080 giveaway! We're giving away not one, but TWO next-gen cards as soon as they launch.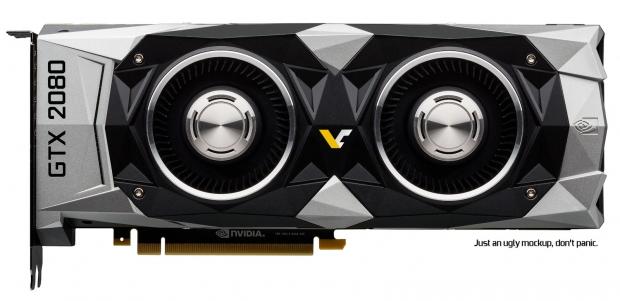 BenchLife is reporting this rumor and if it turns out to be true, we could be looking at the first Founders Edition card with a dual-fan cooler, but it definitely wouldn't be the first NVIDIA graphics card to don a dual-fan cooler. NVIDIA previously used a dual-fan cooler on the high-end GeForce 7900GX2 back in the day, and have not used a dual-fan on a GeForce graphics card since.
Sure, plenty of AIB partners use dual-fan coolers but they're all custom cards so they can do whatever they want. I really can't see NVIDIA using a dual-fan cooler on a new GeForce GTX 1180/2080 but then again, that's only because the company hasn't used a dual-fan cooler in a very long time. The aesthetics of the GTX 10 series FE cards is stuck in my mind after looking at, and using them everyday for over two years now... a dual-fan cooler just sounds strange.
But man, would it be awesome.
A totally balls-to-the-wall middle-finger salute to Radeon Technologies Group and AMD as a whole, if NVIDIA pushes everything to the boundaries with the GTX 11/20 series and a dual-fan cooler. The original GTX 1080 Ti runs at 83C under load without touching fan profiles and overclocking, which is a bit hot for my liking - so a dual-fan cooler on a new card could reduce temps by 10-15C easily. Add to that the new 12nm process and GDDR6 technology, and we could have one of the coolest-running FE cards ever made.
If anything... a dual-card release from NVIDIA would be better suited to a new TITAN graphics card. What do you think? Let us know in the comments below.