We're getting closer and closer to the release of Intel's new 9th generation Core processors which should be led by the flagship Core i9-9900K, a new CPU which will be the first 8C/16T consumer processor released by Intel.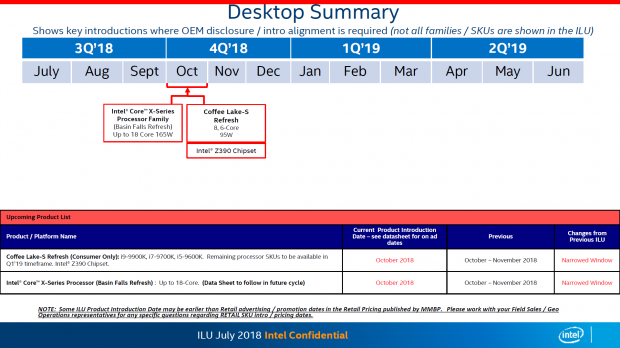 A new release window of October 2018 is now floating around, after the previous reports of an August 1 reveal and release have come and gone without an announcement from Chipzilla. HKEPC is now reporting from the latest purported roadmap from Intel that the company will be launching the 9th-gen Core processors in October, with the full Coffee Lake-S refresh including the 8/6-core variants.
We should expect:
Core i9-9900K - 8C/16T

Core i7-9700K - 8C/8T

Core i5-9600K - 6C/6T
Intel will reportedly unleash the unlocked SKUs first, and then the company will fill in the rest of the 9th-gen CPUs in Q1 2019. We are hoping to see the new 9th-gen Core processors work on current 300-series motherboards, while Intel will also be launching the new Z390 platform at the same time.