AMD is not far away from releasing its new 32C/64T flagship Ryzen Threadripper CPU, with sources of TweakTown (and other sites are now cottoning on) that the flagship chip will be called the Ryzen Threadripper 2990WX.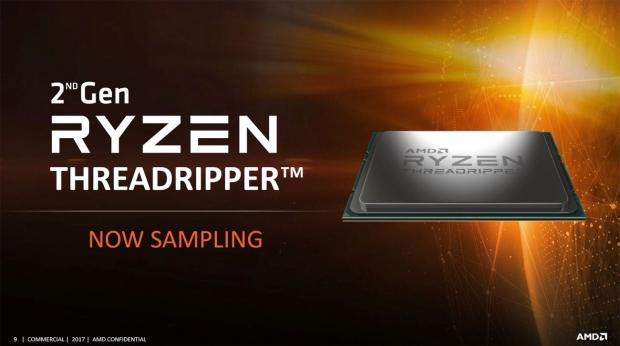 We have seen WX branding on other AMD products before, with the company using the WX branding on workstation level graphics cards like the Radeon Pro WX series of graphics cards. Well, the new Ryzen Threadripper 2990WX will arrive as a beast: 32C/64T at up to 4GHz using the new Wraith cooler. This is an incredible feat, considering Intel can't touch AMD on core count right now and while they might beat AMD in sheer frequency, that's not everything to professionals who need CPU cores over frequency.
What we are to expect from AMD with the second-gen Ryzen Threadripper CPUs is the following:
Ryzen Threadripper 2990WX - 32C/64T

Ryzen Threadripper 2970WX - 24C/48T

Ryzen Threadripper 2950X - 16C/32T

Ryzen Threadripper 2920X - 12C/24T
The last we heard on the Ryzen Threadripper 2990WX is that it should cost around $1850, which is an absolute steal for a monster 32C/64T processor. Intel's closest competitor by core count is the Xeon Platinum 8120 which sells for at least $10,000 on Amazon (and is still only a 28C/56T chip). No matter if the Xeon still beats the 2990WX, AMD wins with pure core count and price. Even if the Xeon Platinum 8180 is 10-20% faster, you're saving 80% on the CPU alone.