Now that the NES and SNES mini's success has been well-charted, other major players are eager to get in. Queue the arrival of The C64, a mini Commodore 64 that brings the old-school 1980s flair to the present day.
The miniature Commodore 64 is scaled down about 50% from the original, and features plug-and-play action. Pre-loaded with 64 classic games, the mini-console aims to take gamers new and old back to those early 1980s days of gaming by blending old hardware (64KB RAM, retro joystick) with new features like HDMI output at 720p resolution.
The C64 also sports BASIC that allows users to program and create their own games, and the device can be updated via its two USB ports--plus it's compatible with USB keyboards to boot. If you want to play multiplayer games, though, you'll need to buy a separate joystick. The C64 mini drops in the United States on October 9, 2018 and will cost $70.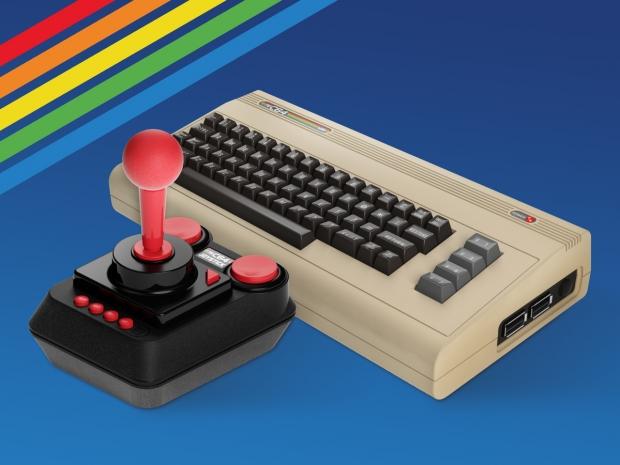 No need for a time machine to hop back to 1982 - with THEC64® Mini, relive the past with the latest home computer that hit the scene over thirty years ago. Out went the silent black and white experience and in came 64KB of RAM, color graphics, and synthesizer sound. Roll forward 36 years and kick nostalgia into overdrive with the release of THEC64® MINI. A tiny but perfectly formed officially licensed 50% scale replica of this much loved machine. Featuring high-definition output via HDMI, a classic style joystick and 64 built-in games including Boulder Dash, Summer Games II, Impossible Mission II, and many more.
THEC64 Mini includes the following:
Pre-loaded with all the Retro Faves: THEC64 Mini comes with 64 classic titles already installed, including: California Games, Winter Games, Impossible Mission II, Boulder Dash, Jumpman, Pitstop II, Speedball II: Brutal Deluxe, Street Sports Baseball, Summer Games II, Temple of Apshai Trilogy, Uridium and more.

USB Ports: The unit comes equipped with two USB ports - perfect for adding an extra joystick for multiplayer games or plugging in a keyboard to create your own programming masterpieces.

Customized Visuals: The unit features high definition output at 720p and 60Hz via HDMI, 4:3 ratio, US/Europe display mode options, and a CRT filter for that classic look.

Back to the Basics: Plug in a USB keyboard and use as a fully functional home computer with C64 BASIC.

Don't Forget to Save: For the first time, THEC64 Mini allows you to easily save your progress in games.

Always Optimized: THEC64® Mini supports software updates via USB flash drive so players have continued access to improved and enhanced programming.