AMD will be unleashing its refreshed Vega 20 GPU in the coming weeks, made on the industry-leading 7nm node and it'll feature some great improvements over the current Vega 10 GPU made on 14nm.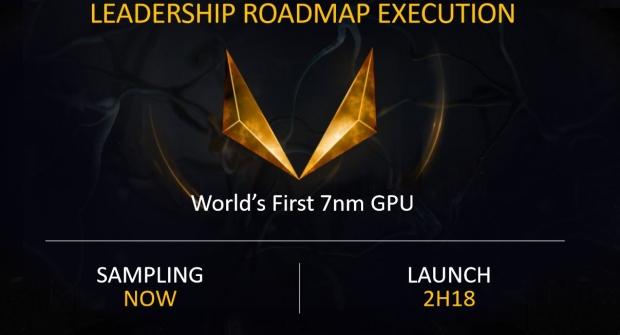 Vega 20 isn't being aimed at gamers and rather the HPC/automotive/AI markets with its huge 32GB of HBM2 and PCIe 4.0 standard. AMD is looking to aim Vega 20 at NVIDIA's current flagship Tesla V100 solution, which was recently bumped up to 32GB of HBM2 at GTC 2018 earlier this year.
The new details on Vega 20 see it coming in at just 360mm2 compared to Vega 10 at 510mm2, a huge 70% reduction in total die size thanks to the fresh 7nm node. This is where a fork in the road happens: AMD can choose power savings with the die size savings, or they can ramp clock speeds up.
Vega 20 could benefit from around 55% power savings over Vega 10, or GPU clocks can be cranked by up to 40%, which would also see the now 4-stack HBM2 drawing more power. This would drive the Vega 20 card with 32GB of HBM2 to 400W, or more.
AMD could use a moderate 20% gain in GPU clock speeds and reach 300-350W with a performance leap of 65% all while saving 30-40% on power consumption. This would allow AMD's new Vega 20 GPU to beat NVIDIA's current Tesla V100 in compute at 300W with around 20.9 TFLOPs compared to the V100 with 15.7 TFLOPs.
To cap it off: Vega 20 is not a gamers GPU. Navi is the next step for AMD Radeon and gamers, and that won't be appearing until around Computex 2019 (11 months from now). We could expect AMD to unleash Vega 20 on 7nm to gamers, but if it is indeed this good I would expect AMD to chew into the datacenter/AI markets first to gain traction against NVIDIA, and not fight the unwinnable battle (for now) against the unbeatable GeForce (for now).