It seems NVIDIA is ramping up towards something big with a new prototype turning up just days after the company celebrated Alan Turing's birthday, we have a picture of a prototype board of a next-gen GPU.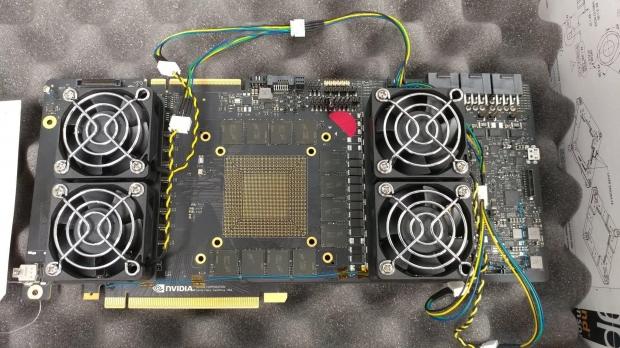 The board in question has 3 x 8-pin PCIe power connectors, and 12 modules of Micron's super-fast GDDR6 technology on-board, as well as what seems like NVLink connectivity at the top. There's no GPU on the board itself, but with the 12 modules of GDDR6 we could see a next-gen GeForce GTX 1180 with 12GB of GDDR6 RAM.
This might not be a new GeForce GPU, and could be a new Tesla (based on Turing). From what I've been told the new GeForce will be a heavily refined Pascal GPU architecture named Ampere, while the GPU to succeed Volta will be Turing. This could very well be a Turing-based card being tested with GDDR6, mostly for the strange connectivity at the top of the board, which could be NVLink.
Sources of mine told me that the GeForce GTX 1180 will be announced on July 30, and it really seems like we're ramping up to something BIG from NVIDIA.