New Red Dead Redemption 2 trailer incoming
Red Dead Redemption 2 will get a pre-E3 trailer.

Published Mon, Apr 30 2018 1:57 PM CDT
|
Updated Tue, Nov 3 2020 11:51 AM CST
Rockstar Games will drop the third trailer for its massively anticipated Western shooter Red Dead Redemption 2 this week.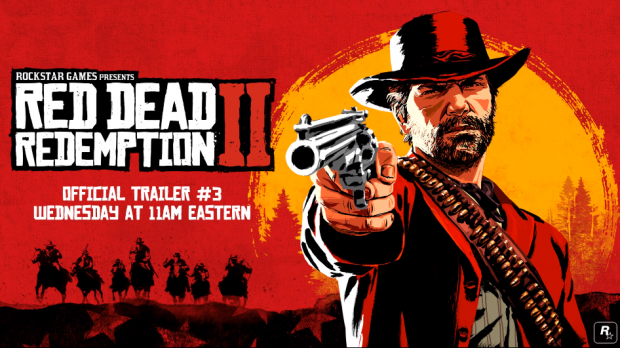 The latest RDR2 trailer is set to release this Wednesday, May 2 at 11AM EST, Rockstar today announced. In predictable Rockstar fashion the devs didn't release any real new teasers or snippets of info--just the basic "new trailer on X date".
Based on everything we know and have seen so far, Red Dead Redemption 2 is Rockstar's most ambitious game yet and aims to push current generation consoles (4K and otherwise) to their limit. The studio has been crafting this game for years on end and actually built RDR2 from the ground up for PS4 and Xbox One and should eke out the Xbox One X's higher-end console power to boot.
The game will also feature an online mode that should mirror GTA Online in terms of microtransactions and engagement-driven content. Expect to see regular free updates, new modes (possibly a battle royale mode?), and a steady stream of patches across the board--all powered by optional in-game purchases.
We should see a bunch of new details at E3 2018, likely during Sony's press conference as PS4 should have exclusive content.
Red Dead Redemption 2 is slated to launch on October 26, 2018 for PS4 and Xbox One. A PC release has yet to be announced.
Related Tags