If there was a job within a job that you wouldn't expect to see on Reddit, it would be a farmer playing a farming game while... farming. This is exactly what 'ZoMgPwNaGe' on Reddit posted to the /r/StardewValley subreddit, which propelled it up the ranks of Reddit with a huge 3830 upvotes at the time of writing.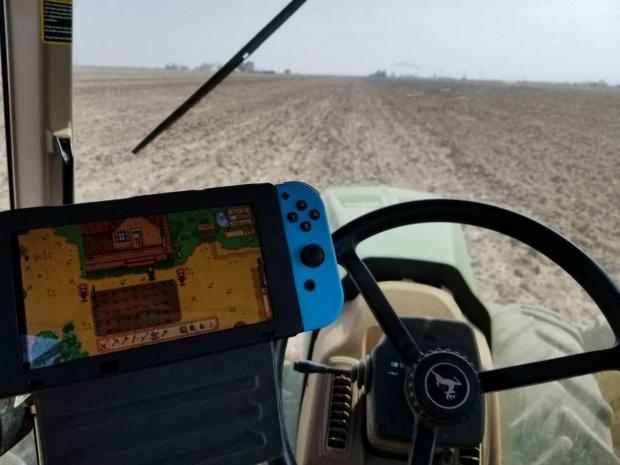 ZoMgPwNaGe, otherwise known as Tim, has the top comment on his post saying: "Wow great. You have one of the most important jobs in our society! Thank you very much!". Tim replied saying "Thank you, that's a refreshing opinion of us to hear :)", and then 'icebiker' said: "Is that not a common opinion? I love vegetable farmers - I thought everyone did? I'm Canadian though, maybe it's different here?".
That's where the more personal reply comes in, with Tim saying: "A lot of people seem to think farmers are corporate drones who are out to poison them with as many chemicals Bayer and Monsanto will let us have, which is false. Our farm has a total of 1 employee, the rest of the work is done by myself and my dad. Our partners have a total of 3 employees. Between us we have nearly 2k acres of ground. We're very much not corporate. And we use the least amount of chemicals and pesticide possible, because it's our money we're spending".
Ever since his original post, Tim has been answering Reddit users' questions about farming. One of Tim's posts says that farming is hard work and requires a considerable amount of hours per day, but then there's also time to relax as well. He said: "My average speed in the field is less than 10km per hour. Literally every farmer with autosteer brings at least a book with them to kill the boredom".
Is it just Stardew Valley that Tim plays on his Nintendo Switch? Nope. He also said: "I beat Breath of the Wild entirely in the tractor when it first came out. To me Stardew Valley is more like relaxing and tinkering in my backyard garden than actual work, so it still has that escapism factor to me that something like Farming Simulator doesn't have".