Bitmain has been teasing its Ethereum ASIC miner for a while now, but the China-based Bitcoin mining company has finally unveiled their new Antminer E3 that will ship in July.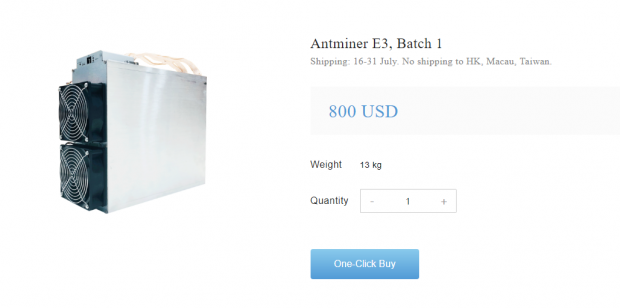 Bitmain's new Antminer E3 is limited to "one unit per user" which will stem huge mining farms from loading up on them, while the new Ethereum ASIC miner costs just $800 and has 180MH/s of mining power with Bitmain adding that they expect shipping-ready Antminer E3s will "deliver higher performance and efficiency when they are ready to ship".
The new Ethereum ASIC miner consumes just 800W of power, and with an $800 price tag and 180MH/s of hashing power, this will put a dent in GPU-based mining. An overclocked NVIDIA GeForce GTX 1080 Ti can push around 35MH/s in Claymore mining Ethereum, so you'd need 5 of them overclocked to match a single Bitmain Antminer E3.
Bitmain's new Antminer E3 could be bricked for ETH mining if the new hard fork with Ethereum happens, too. The new Antminer E3 isn't shipping until the end of July, which means there's plenty of time for change in the market in the coming months.