Qualcomm first teased its revolutionary Snapdragon on Windows deal with Microsoft just before Computex 2017, I knew it would be a game changer that wouldn't happen overnight, but it would start with a bang and really ramp up as new products were released.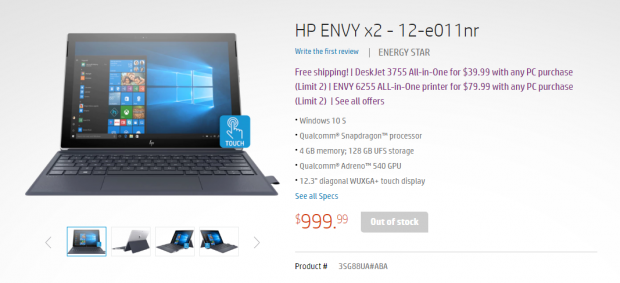 HP has had its Envy x2 on the market for weeks, and it's already sold out. HP's ultra-portable Envy x2 packs Qualcomm's Snapdragon 835 processor (8-core CPU at up to 2.6GHz), 4GB of RAM, 128GB of UFS storage, and a 12.3-inch 1080p touch display - all with 4G LTE for always-connected PC greatness.
But with it selling out so quickly, it seems that there are thousands of people who have been wanting the always-connected side of things backed up by a huge 22 hours of battery life. This isn't possible on traditional Intel/AMD-based notebooks, something that Qualcomm is changing the game with.
I firmly believe that Qualcomm will be the new champion of the PC in the coming years, and with the PC market not doing so well over the last few years, a revival is exactly what we need. Just wait until next-gen Snapdragon processors can pump 4K 60FPS in games, mixed in with some of that gloriously fast 5G technology into a laptop... oh boy.
This is great to see, and I think we'll see more and more of this as Qualcomm gets its Snapdragon technology into more and more Windows laptops. 18 hours of video playback blows most good tablets away, and completely blows the floor with x86-based designs. Now I just need to get my hands-on one!