MSI preparing 27-inch 1080/1440p displays at 144Hz
MSI preparing Optix MPG27C/MPG27CQ displays that pump up to 144Hz refresh rate.

Published Tue, Feb 27 2018 10:33 PM CST
|
Updated Tue, Nov 3 2020 11:52 AM CST
MSI is preparing two new gaming displays that will fall into their Optix MPG series, with both displays featuring a 27-inch panel and 144Hz resolution.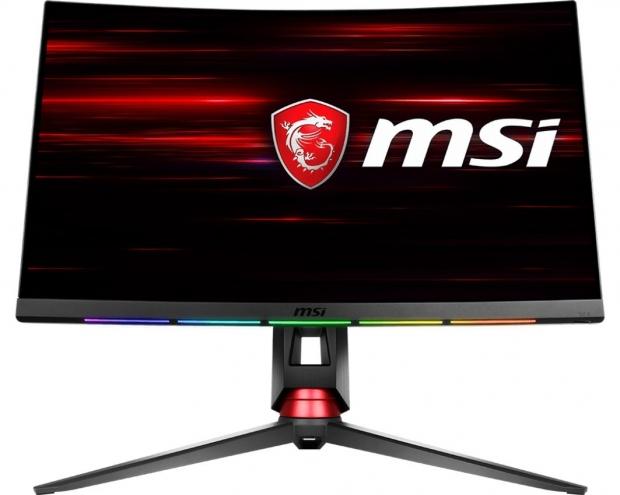 The new MSI Optix MPG27C is the 1080p version, while the MPGH27CQ ramps up to 1440p, with both displays offering 1ms response and a silky smooth 144Hz refresh rate. The MPG27CQ has a few differences over the 1080p sibling, with 400 nits (up from 250 on the MPG27C), and 2 x HDMI 2.0 ports over the 2 x HDMI 1.4 ports as well as full USB 3.1 connectivity versus the USB 2.0 + USB 3.1 connectivity on the 1080p panel.
MSI has teamed with SteelSeries on the new Optix MPG displays, with MSI President Joseph Hsu saying: "The integration of SteelSeries Engine with the Optix MPG Series Curved Gaming Monitors brings PrismSync Illumination and real-time game alerts which offer an even greater level of immersive gameplay. MSI and SteelSeries are delivering a truly immersive experience to gamers".
SteelSeries boss Ehtisham Rabbani said: "SteelSeries is proud of the strong partnership that we continue to build with MSI and we are excited to bring the gaming community new types of immersive technology like this".
MSI hasn't announced any pricing or ETA just yet, but we will keep you updated.
Related Tags