Xbox saves work with Final Fantasy XV on PC
Square Enix has enabled cross-saves on Xbox One and PC, but only if you grab the Windows 10 UWP flavor.

Published Fri, Feb 23 2018 11:49 AM CST
|
Updated Tue, Nov 3 2020 11:52 AM CST
In a bid to maximize sales and exposure, Square Enix has enabled some nifty features for Final Fantasy XV's PC version--including cross-play and cross-saves between Windows 10 PCs and Xbox One consoles.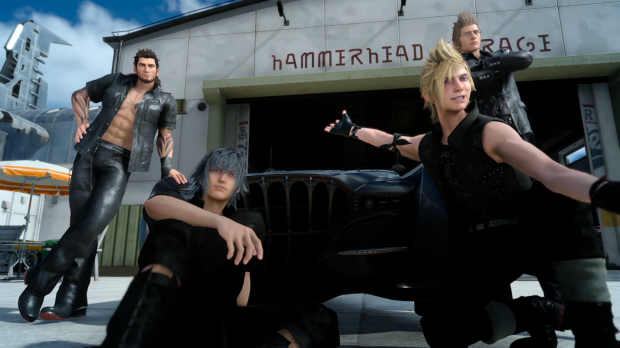 If you're an Xbox owner who plans on double-dipping with Final Fantasy XV on PC then Square Enix has a nice surprise in store: you won't have to start over from scratch. The publisher confirms that saves between FFXV on Xbox One and the Windows Edition are compatible, but only if you buy the game from the Microsoft Store.
The game's online Comrades multiplayer mode will also support cross-play between the two systems to add in a nice little touch of cross-platform action. "The save data from the Windows 10 version of FINAL FANTASY XV WINDOWS EDITION is compatible with the Xbox One version of FINAL FANTASY XV. In addition, a post-launch update for FINAL FANTASY XV WINDOWS EDITION will enable Windows 10 and Xbox One cross play for FINAL FANTASY XV MULTIPLAYER EXPANSION: COMRADES," Square Enix wrote in a press release.
Final Fantasy XV Windows Edition has been tailor-made for PC and leverages the power of builds ranging from entry-level to high-end native 4K pushing monsters. The port will also feature custom mod support, extra features, and a number of tidbits and add-ons not available to the console flavor.
The PC version will launch on March 6, 2018 across Steam, the Microsoft Store, and EA's Origin client--as well as in-stores as a physical disc.
FINAL FANTASY XV WINDOWS EDITION features:

Expanded Map: Insomnia City Ruins - all-new side quests and enemies such as Cerberus and Omega will be available through the expanded map of the Crown City of Insomnia. Players can also take on a battle with the Rulers of Yore.

A fully-controllable Royal Vessel boat, expanding the world of Eos and allowing players to explore the area between Cape Caem and Altissia. Players will also be able to fish aboard the vessel and discover new fish and recipes.

A new accessory that can activate the new action "Armiger Unleashed" - players will be able to unleash powerful attacks while the Armiger is summoned. After collecting all of the royal arms, players will be able to find an accessory in an unidentified part of the world, enabling access to Armiger Unleashed.

A new first-person camera mode, allowing players to experience the game from Noctis' perspective.

More than a dozen pieces of downloadable content including weapons, Regalia car skins and item sets.

All current season pass content including: EPISODE GLADIOLUS, EPISODE PROMPTO, MULTIPLAYER EXPANSION: COMRADES and EPISODE IGNIS.

Archive - players can review the "Cosmogony" stories scattered throughout the FINAL FANTASY XV world. Additional local myths and legends will also be placed in various new locations. Through them, players will be able to obtain more information about the world.

Quest to obtain and strengthen Regalia Type-D.
Related Tags