Code Vein will have online co-op multiplayer
Players can team up with friends or random users online to battle hordes of baddies in Code Vein.

Published Thu, Feb 15 2018 5:30 PM CST
|
Updated Tue, Nov 3 2020 11:52 AM CST
Bandai Namco's upcoming Souls-like game Code Vein will have online co-op multiplayer action, much like the Dark Souls games.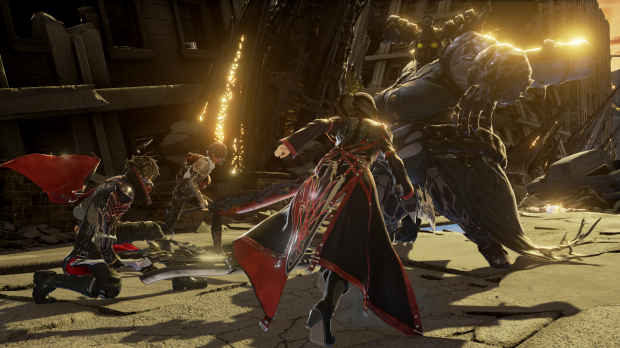 While Code Vein may have similarities to Dark Souls games, it has a style and a series of mechanics all its own...but that doesn't mean it won't borrow a page or three from From Software's magnum opus lineage. In a bid to give players a sense of camaraderie and interaction, Bandai Namco has announced Code Vein will have an online-based co-op system that allows friends or random users to team up and battle Lost, or the in-game enemies.
"CODE VEIN gives players the chance to answer requests for help from other Revenants finding difficulty battling against the Lost. Explore and defeat the enemies lurking through each dungeon with your A.I. companion and another human player to get through difficult areas of the game. Players can communicate through a combination of gestures, stamps and voice commands for added communication and teamwork."
If you're stuck offline, Code Vein will still let you have an AI-controlled "buddy" to help you out of those tough places.
Related Tags