Bandai Namco's new secret Prepare To Dine project has been leaked ahead of schedule: the game is called "Code Vein," and features a new kind of dungeon crawling with action RPG elements and a creepy, hallowed storyline with revenants and vampires.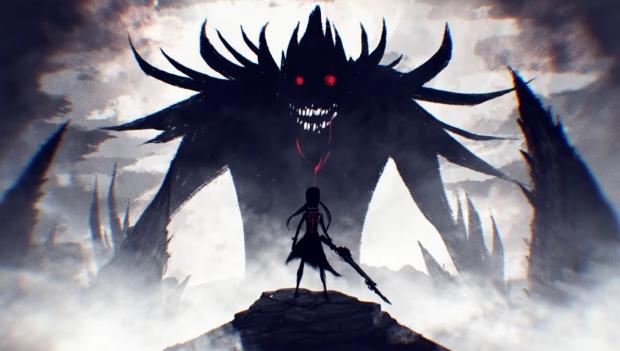 According to Japanese blog Esuteru, Bandai Namco revealed Code Vein in a recent issue of Famitsu. The action RPG is being developed by God Eater's team, with devs like Keita Iizuka and Yusuke Tomizawa working on the project, and is built on Unreal Engine 4.
Code Vein is described as a "dramatic dungeon-exploring action RPG." and takes place in a post-apocalyptic world. Players take on the role of revenants--traditional vampires--with supernatural abilities involving blood magic and attacks. When players run out of blood, they transform into devil-like creatures called Lost--the monsters we see in the teaser. Code Vein has a unique co-op mechanic that allows players to take a "buddy" with them when exploring dungeons. Buddies are AI, but players will have to work together to survive the "tense and dangerous" dungeons.
As revenants, players have access to abilities like:
Blood Veil - The Blood Veil is an equipment unique tot he Revenant, used to suck up blood from the Lost. While in use, it appears in the form of clothing, and also functions as armor. While in use to suck up blood, it uses a mechanism for the purpose, and we see a change in the user's mask as well.
Special Ability: Blood Smelting - This action becomes possible after acquiring blood from the Lost after successfully sucking up their blood using Blood Veil. This allows you to power yourself up, debuff enemies, do direct attacks, and other uses.
Code Vein will be released in 2018, and development is currently at 35% completion. Bandai Namco will reveal the game in full on April 20, along with a new trailer for the game.
Check below for more info gleaned from the Famitsu interview:
Code Vein is being made on a separate development line from the God Eater series, as a way to take on a new challenge.

When asked if there are any connections to God Eater, Tomizawa says they're advancing through its development to make it into a new title that can offer a new gaming experience.

The developers described the meaning behind the English word of "Vein" and "Code." They want you to think of it as "codes for blood."

"Vein" is the name of the closed world that players will be exploring in Code Vein. Here, you'll try to find its hidden truth.

They're calling the genre for it a "dramatic dungeon-exploring action RPG." It'll involve exploring the adjoining areas with tense atmosphere, as explore and travel. They feel that its strong sense of accomplishment sets it apart from your average genre of "dungeon-exploring action RPG."

You'll get to go on a journey with a "Buddy," in a game with difficulty that might make you quit if it were solo, but said to bring an even bigger sense of accomplishment from its many obstacles you'll have to overcome.

Your "Buddy" is controlled by AI, but there will be times where the players will need to help their Buddies.

Code Vein is being made with Unreal Engine 4.

They can't share a clear answer for which hardware it is being made for, but they plan to release it on console.

A new trailer is expected to be revealed in early-May.

They aim to make it a worldwide title from Japan.

As the team leader, Yusuke Tomizawa will oversee both God Eater and Code Vein.