Battlefront II's problematic features will change, says DICE
DICE reiterates that Battlefront II's current problems may not always remain problems in the future.

Published Wed, Nov 15 2017 5:09 PM CST
|
Updated Tue, Nov 3 2020 11:53 AM CST
On the heels of big, spiraling-out-of-control controversy for Battlefront II, DICE developers recently jumped on a Reddit AmA to answer some of gamers' most burning questions. The results? Mostly PR-speak affirmations of things that most analysts, games press, and gamers already know: some of Battlefront II's mechanics aren't set in stone.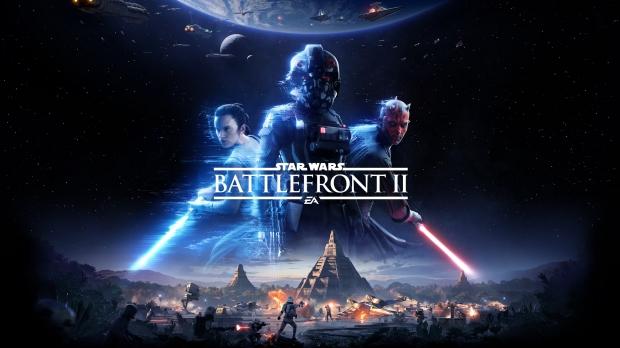 One of the best advantages of games-as-a-service is that the titles in question are much more flexible than singleplayer-only experiences. Armed with a live team, devs can issue out quick hotfixes and changes that can dramatically change the experience--on top of extra content that players consume to further said experience. This advantage will be tapped in full with Battlefront II. EA has a long history of service games and is one of the best in the business when it comes to not only monetizing players but also engaging them with practical, balanced content (well more-balanced anyway). There's no way this trend will just stop with Battlefront II...but there will be some compromises such as lootboxes being here to stay.
During the Reddit AmA session, DICE developers gave a number of answers that strongly reinforce that the team is listening to players, and they'll make adjustments and changes to Battlefront II over time. Here's some of the more choice tidbits:
John Wasilczyk, executive producer for Battlefront 2:
On credits, crates and Star Cards:
The new system in Battlefront 2 has more depth and complexity than Battlefront 1 and required updates to how we think about all of this. We've made a lot of changes and credit rewards are part of that. We're working on updates to the end of round rewards system and that will affect how a player's match performance yields credits. Right now it's not weighted enough to reward performance.

We're constantly looking at the rate that players are unlocking Crates and Star Cards and will continue adjusting values to make sure that players are able to progress towards their goals without it feeling like a grind. We're also going to be adjusting end of match rewards as we revisit the system to reward people differently based on the way they play.
On progression:
I think this concern has come through loud and clear. We're going to continue adjusting the crate systems, content, and progression mechanics to hit a point that gives players a great, balanced experience at all skill levels.

We're working on expanding the number of ways that players can progress, putting more control in their hands and providing more options and choice in the way people play. There's not much in the game that we wouldn't revisit to improve the game for as many players as possible.

We've seen the speculation about how long it takes players to earn things - but our averages based on the Play First trial are much faster than what's out there. But as more players come in, that could change. We're committed to making progression a fun experience for all of our players. Nothing should feel unattainable and if it does, we'll do what it takes to make sure it's both fun and achievable. As we update and expand Arcade mode, we'll be working towards making sure that players can continue to progress without daily limits.
Dennis Branvall, design director:
On Battlefront II's lootbox problem:
I think crates can be a fun addition as long as you don't feel forced to engage with them in order to progress.

I feel that's where the issue is with our game right now and that's where we'll look to solve as quickly as we can. We're looking to add additional ways to progress your favorite character or class, while allowing crates to be a fun thing for those who want to engage with them.
On how DICE has to be willing to make big changes:
Yes. I don't feel you can take yourself seriously as a developer on a live game if you're not willing to completely challenge your own system and consider overhauls.

I can't really commit to the dates just yet, but we're looking at solutions where players have a clearer, more direct path to getting the stuff you want.
On how to give feedback, and how DICE can't change everything:
The best way to tell a company what you want on any topic is doing exactly what you are doing - give us the feedback. Talk with us, constructively.

When we can change things, we will. When we can't, we can't, and as much as possible we'll explain why.

At the end of the day, if you don't have fun in our game or you don't like our game, we lose. Plain and simple. We want to make games that people want to play and are happy with. That's our jobs, and we're going to keep doing it.
On Battlefront II cosmetics:
Nothing is too late. As you've noticed, we weren't able to get the customization system into the game in time for launch. I'm actually having artists and designers walk up to me today showing me cosmetic stuff they really want to get out there.

I think we have probably the best looking Clone Troopers ever made and I know players really want to customize them (I know I do). I can't really commit to a date just yet, but we're working on stuff and I believe it will change the game tremendeously on all levels.
On dissemination of crafting parts:
We are always going to be looking at the system from the back end, making changes depending on how we see people progressing.

If it looks as though the crafting parts aren't being given out quickly enough, we'll look into changes to fix that. We know our players are looking for more direct paths in getting the thing they really want, so we'll look to provide that as quickly as we can.
Paul Keslin, multiplayer producer
On tough feedback:
Jumping into this AMA is just one of the ways we want to start to repair the bridge to our players. Lots of people told us that we shouldn't do this this as it wasn't going to go like we hope it would.

That said, we are committed to continuing this dialogue even if we need to face some harsh feedback. We welcome the discussions and criticisms, we're not just here for the praise (although it is nice to hear!).

And we'll continue to be here, and on our forums, talking to our community as we strive to work with you to make a Star Wars game you enjoy.
You can check DICE's full AMA responses here.
Related Tags