Call of Duty: WWII's monetization delayed to fix game issues
Player spending is cut off until online multiplayer is smoothed out.

Published Tue, Nov 14 2017 3:22 PM CST
|
Updated Tue, Nov 3 2020 11:53 AM CST
With Call of Duty: WWII, Sledgehammer Games has put stability above microtransactions.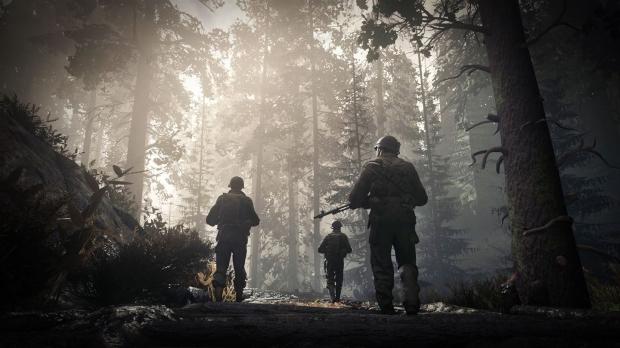 Activision's latest World War II-based Call of Duty game has roared out of the gate with over $500 million in launch sales, but despite these huge figures, the game is still suffering from disconnections and some other pretty gnarly online issues. In a typical world this means the dev team scatters to put out the fire as soon as possible while those who can actually play have the chance to buy into microtransactions and lootboxes. But Sledgehammer Games is taking a different tact.
In a bid to fix the game as soon as possible the team is suspending the rollout of Call of Duty: WWII's premium COD Points (CP) currency that's used to buy lootboxes until next week, November 21. This effectively means players can't spend real money on CP to buy lootboxes, cosmetics, weapon skins, etc. Sledgehammer explains this delay is "so the team can focus on our top priority items."
This decision is quite interesting given Call of Duty: WWII's engagement model that nets players in-game rewards for watching others open lootboxes. It's actually refreshing to see a studio delay something as big as recurrent consumer spending in its hot new game so it can focus entirely on stability--but of course gamers shouldn't be allowed to spend money on items for a game they can't even play online.
Here's what Sledgehammer Games' latest update said:
As we continue to deploy updates for the issues we touched on over the weekend, we wanted to provide a real-time status update on our progress:

Dedicated Servers - Yesterday, we rolled out dedicated servers on PS4 and have been testing and monitoring performance in the US. We activated XB1 Dedicated Servers for a limited time earlier today for testing. We are also currently expanding limited dedicated servers throughout Europe to test and ensure stability globally.

Game Disconnects from Server- Last night's patch to address disconnects, stats loss and lobby freezes has held and appears to have resolved these issues.

2XP - We extended our Double XP for an additional 24 hours until Tuesday at 10AM PT. Last night's Game Update also addressed an issue that mistakenly granted 2XP for players since launch, and triggered 3XP over this past weekend. 2XP is now functioning as intended, but for day one players you'll notice the change in standard XP progression tomorrow. This change matches our normal player progression to our design intent, and we will be monitoring moving forward to ensure the ideal experience for fans.

COD Points - As an update to a previous announcement from our Player Support team, the COD Points live date has been moved to November 21 so the team can focus on our top priority items.

PC - We deployed an update earlier this morning to address several issues on the PC. We will also issue our comprehensive Game Update in a few hours, which will address several issues we've been tracking.
Related Tags