EA makes big changes to Battlefront 2's loot boxes
'We've listened to your feedback.'

Published Tue, Oct 31 2017 5:32 PM CDT
|
Updated Tue, Nov 3 2020 11:53 AM CST
In a bid to iterate with player feedback and ensure the game isn't widely panned, EA has tweaked Battlefront II's hotly contested lootboxes into a more palpa(tine)able form.
Months before EA actually confirmed the news, I predicted Battlefront II would be monetized with lootbox microtransactions and ask users to pay money for upgrades and the like. That prediction turned out true, and gamers were exposed to a hugely debated "pay to win" lootbox scheme in the addicting beta test that caused lots of furor. Having spent years making Battlefront II, EA and DICE have heard our cries and have used feedback from the beta to make some big changes by layering the monetization strategies in such a way that there's balance.
First up, epic Star Cards--the most powerful cards that can seriously sway the outcome of battles--aren't in lootboxes any more. That means you can't just spend a bunch of money to get the best upgrades any more. You have to work for them by crafting. But the trick is that crafting these cards is gated behind a ranking system. So now you'll not only need to play the game, but amass a bunch of credits and resources to spend on crafting cards (of course you can still get resources in lootboxes).
Here's what DICE and EA revealed in the blog post announcement:
Epic Star Cards, the highest tier of Star Cards available at launch, have been removed from Crates. To help keep everyone on a level playing field, these Star Cards will primarily be available through crafting, with the exception of special Epic Star Cards available through pre-order, deluxe, and starter packs.
You'll need to reach a certain rank to craft upgraded Star Cards. You won't be able to buy a bunch of Crates, grind everything up into crafting materials, and immediately use them to get super powerful Star Cards. You can only upgrade the ability to craft higher tier Star Cards by ranking up through playing the game.
Weapons are locked behind specific milestones. While a select few will be found in Crates, the rest can only be attained by play. Want to unlock a new weapon for your Heavy? Play as a Heavy and you'll gain access to the class's new weapons.
Class-specific gear and items can be unlocked by playing as them. As you progress through your favorite class, you'll hit milestones granting you class-specific Crates. These will include a mix of Star Cards and Crafting Parts to benefit your class's development.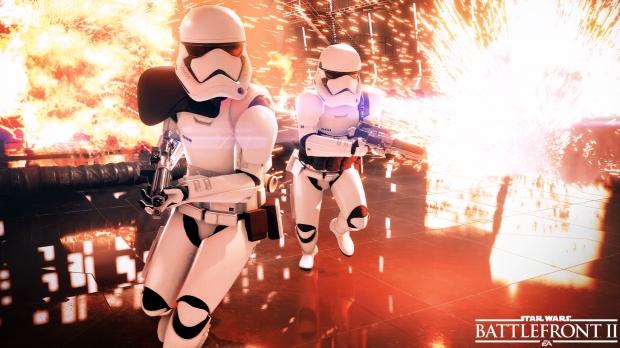 The developers affirm that these rules won't be set in stone. The game will continually evolve over time--it's a service game after all--and the team will tweak, refine, and most importantly iterate upon the core foundation.
"This system, as well as all of the others, will be continually iterated on and improved. As we first announced at EA Play in June, we're committed to keeping the community together," the studio said.
"All upcoming weapons, maps, heroes, and vehicles introduced in Star Wars Battlefront II's post-release content will be free so that players can play alongside friends as the world of Star Wars Battlefront II continues to grow. We know that the magic is in the balance, and we're going to make sure that we continue to make a game that is fun for everyone."
Star Wars: Battlefront II will launch on November 17, 2017 on Xbox One, PS4, and PC.
Related Tags