Sony reports huge 739% net income spike
Sony's bottom line net income sees a meteoric rise in its second quarter results.

Published Tue, Oct 31 2017 11:01 AM CDT
|
Updated Tue, Nov 3 2020 11:53 AM CST
Sony Corp just announced its earnings for the three-month period from July to September, and the results show strong growth in key segments.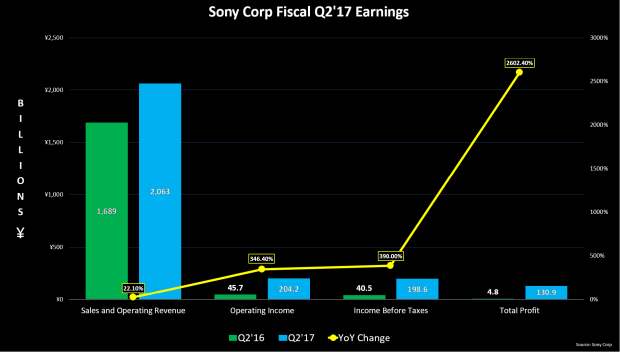 Note: The following yen to USD conversions are in accordance to Sony's earnings filing that sees 113 yen = $1 USD.
Sony's latest financial report fro fiscal Q2'17 see the Japanese company enjoying a staggering 739% spike in YoY net income, or bottom-line income after taxes and expenditures, to $1.263 billion (142.8 billion yen). The company managed to deliver a meteoric 2600% jump in net income attributable to stockholders in the period to $1.158 billion (130.9 billion yen), which ensures holders of Sony stock look favorably on the company.
Other metrics show the company is firing on most of its cylinders--excluding Pictures--thanks to Sony Corp President Kazuo Hirai's strong leadership and mid-year plan strategy, which sees the Tokyo, Japan-based titan doubling down on premium smartphones, 4K televisions, camera sensors, and natively unifying its lucrative PlayStation gaming brand with a retinue of subscriptions and online services.
During the three-month quarterly period, Sony recorded sales and operating revenue of $18.252 billion (2.062 trillion yen), up a mighty 22.1% year-over-year and about 11% quarter-over-quarter. The PlayStation and subscription-led Games and Network Services segment earned the lion's share of sales with $3.83 billion (433.2 billion yen) or 21% of total sales revenues.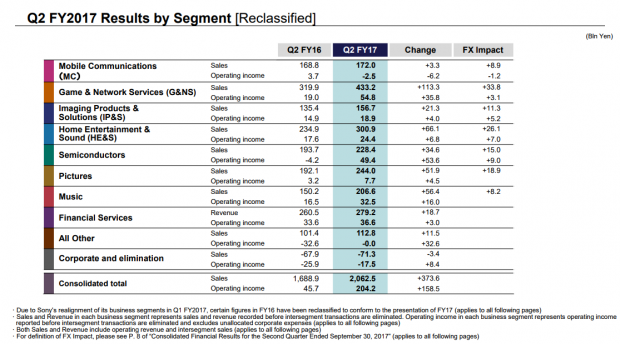 Operating income for fiscal Q2'17 sits at $1.807 billion (204.2 billion yen), up a huge 346% year-over-year and about 28.4% quarter-over-quarter.
Due to strong performance across all key segments, Sony has boosted the forecast for the fiscal year ending March 2018.
The company now expects to pull in a mighty $75.22 billion (8.5 trillion yen) in sales and operating revenue, up 2.4% from previous forecasts. Operating income for the full annual year is forecast at $4.73 billion (630 billion yen), a new OI record in Sony's entire history.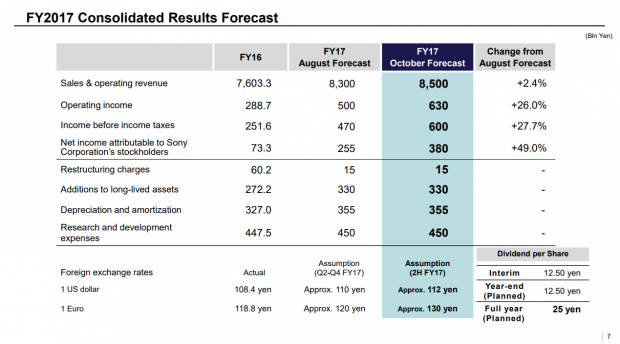 Related Tags