With its new Animal Crossing mobile game, Nintendo sends a clear signal about doubling down on traditional free-to-play monetization business models.
Nintendo has announced Animal Crossing: Pocket Camp, the games-maker's latest mobile game to join its existing slate of smartphone games. On the heels of Fire Emblem Heroes' success, Nintendo has chosen to embrace the traditional (and lucrative) free-to-play "gacha" business model to supplement its successful console gaming segment. The Japanese games-maker originally wanted to implement a "free-to-start" business model used with Super Mario Run, but this strategy, which allowed users to try the game and forced a $10 purchase to keep playing, ultimately failed to catch on and fizzled out. The company said that it would continue testing out monetization strategies, but with this latest mobile release, Nintendo shows it has embraced the F2P sector.
Animal Crossing: Pocket Camp is a direct result of Nintendo chasing the most popular--and most lucrative--mobile gaming trends. In its latest quarterly earnings, Nintendo earned $79 million from its smartphone gaming segment, largely bolstered by the success of Fire Emblem Heroes. The latest Animal Crossing game will follow a similar revenue model: while free to play, gamers can either spend time to build objects and decorate their personal interactive camp sites, or spend money for shortcut items like Leaf Tickets to unlock them right away. Tickets can be earned for free, but are capped on a day-to-day basis. Right now Animal Crossing: Pocket Camp's premium Leaf Tickets currency cost about $0.99 for 20 tickets.
Users can also visit their friends' camp sites and have others check out their own virtual homes away from home, adding a significant draw that aligns with the beloved Animal Crossing series.
"The monetization seems to be more aggressive than the casual appeal the title suggests," Kantan Games analyst Serkan Toto told Bloomberg. "A high-quality mobile version of Animal Crossing can become a long-term cash machine for Nintendo."
In July Mr. Toto noted that the cost of mobile games development in Japan has risen steadily. According to Mr. Toto's findings, DeNa, the firm Nintendo partnered with to make its mobile games, says each smartphone title takes about $4.5 million to develop. As a result, key games-makers and IP holders are more likely to pursue more lucrative business models like the "gacha" free-to-play strategy.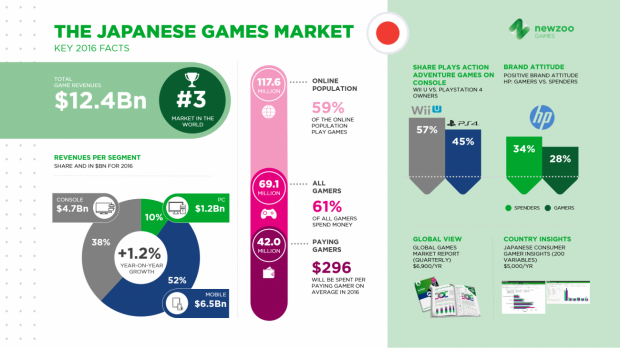 It'll be interesting to see if Animal Crossing: Pocket Camp is more popular in the West or in its native land of Japan. Mobile gaming accounts for the bulk of earnings in Japan, and Animal Crossing is a very popular IP in the region (as well in Europe and North America).
Analyst firm Newzoo predicts that mobile gaming will make up 52% of the Japanese video games market in 2017, pulling in $6.5 billion in revenue.
With this business model Nintendo is set up to enjoy long-running revenue models that will carry its segment earnings well beyond the company's current fiscal year. Nintendo is expected to announce its second quarter earnings from July through August next week, and we'll be sure to keep you updated with the latest information.