Gears of War 4 showed off on next-gen Xbox One X
Xbox One X enhanced version of Gears of War 4 shown off with 4K, HDR tech, and so much more.
Published
3 minutes & 0 seconds read time
Gears of War 4 is being enhanced specifically for the Xbox One X, with an update being pushed out on November 7 that will provide 4K and HDR support, as well as many other Xbox One X specific features and enhancements to the game. Check out the trailer below for more details.
The updated Gears of War 4 for the Xbox One X launches on November 7, the same day the Xbox One X goes on sale. If you own Gears of War 4, it'll be a free upgrade for you - you'll just need to buy Xbox One X.
True 4K Experience
Get ready to experience unmatched clarity, richness and details with true 4K visuals (3840×2160) in our Visuals Rendering Mode. Even if you're playing on a 1080p screen, you'll instantly notice the difference thanks to a 4K super sampled image that brings you a crisper, richer looking Gears game than you've ever seen before.
HDR
High Dynamic Range provides increased contrast between lights and darks. Battling your way through a lightning flurry in a windflare has never looked better. Gears of War 4 on Xbox One X supports a wide color gamut for true-to-color definition - just as the artists intended - and now at 4K resolution.
Up to 60FPS For Ultra Smooth Gameplay
We're excited to announce Xbox One X owners will have two Preferred Rendering Options to choose from in Gears of War 4 - Visuals and Performance!
Performance
Put framerate first. For the first time ever, Gears of War will play at up to 60fps in 1080p in Campaign and Horde - all including higher resolution textures and some of the new enhanced graphical features available in Visuals mode.
Visuals
Push graphical fidelity to the max. This mode uses Ultra Quality Textures, a wealth of new and improved graphical features all at 4K resolution (3840×2160) thanks to the power of Xbox One X. You'll experience the same frame rates you've come to expect from Gears of War 4 - 30fps for Campaign and Horde. In both Rendering modes, Versus will run at a rock-solid 4K 60FPS (with adaptive resolution scaling).
Dolby Atmos Audio Support
When playing Gears of War 4 on Xbox One, we now offer Dolby Atmos, which gives you immersive, moving audio. The Dolby Access app lets you set up your Dolby Atmos enabled home theater, TV, or sound bar for free, and lets you try or buy Dolby Atmos for Headphones, which gives you immersive sound on any headphones. Experience the visceral sounds of Gears of War in a way that will make you feel like you're inside the action, only on Xbox One.
Enhanced Light Shafts
Also known as God Rays, Enhanced Light Shafts provide true-to-life beams of sunlight in the world. Prepare for jaw dropping lighting as the God Rays peek through gaps in the canopy of trees above you, or in sunset conditions peeking through buildings and statues.
Dynamic Shadows
Shadows in Gears of War 4 are usually pre-defined by an artist to accurately reflect the shadows objects in the world would cast based on the lighting. On Xbox One X, dynamic shadows now react true to the lighting conditions and movement of objects - for example, trees blowing in the wind will cast an accurate moving shadow on the ground - bringing the world of Sera to life like never before.
Increased Draw Distances
With the power of Xbox One X, we can maintain higher resolution textures at a further distance than ever before - creating a higher fidelity picture and crisper world around you, even on the horizon.
Superior Reflections
We've pushed our surface space reflections even further to look closer to as you would expect in real life. Reflective surfaces now have a higher definition reflection of your character - whether that's in a mirror-like reflection of water, or the muddied color reflective nature of metal. It looks especially awesome on the DeeBee's metallic armor!
Enhanced Character Textures
With our higher resolution textures now available on console thanks to Xbox One X, characters show more detail from head to toe. They've never looked better!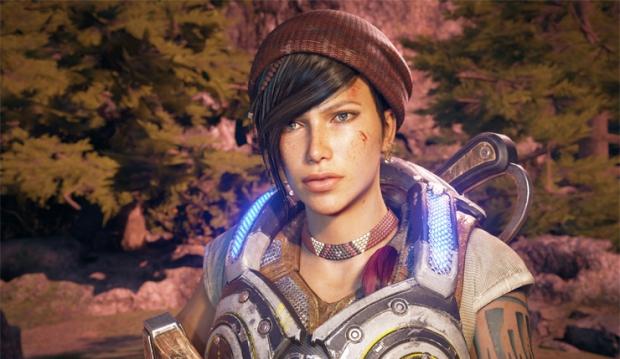 Related Tags