ARK on Xbox One X: renders at 1440p 30FPS or 1080p 60FPS
ARK: Survival Evolved has two modes for Xbox One X: 1440p 30FPS with HDR, or 1080p 60FPS.

Published Wed, Oct 18 2017 9:29 PM CDT
|
Updated Tue, Nov 3 2020 11:53 AM CST
The Xbox One X version of ARK: Survival Evolved will have two visual modes, as well as support for HDR mode. The two rendering modes will be "Detailed Graphics" and "1080p" mode.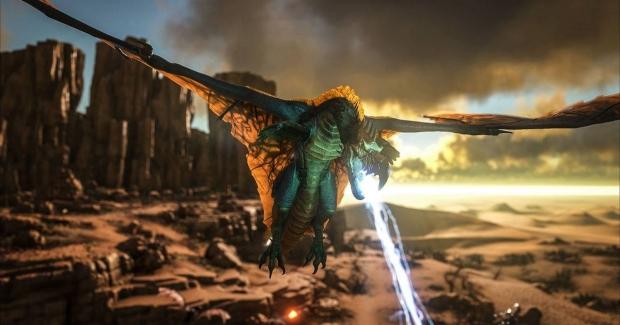 Studio Wildcard's upcoming patch for the Xbox version of ARK will be released on October 25, and will let the game harness the additional power inside of the Xbox One X, improving loading times and better streaming. ARK's new Detailed Graphics mode will render the game at 1440p, with the Truesky high quality PC setting at 30FPS.
ARK's second mode for the Xbox One X will render the game at 1080p, but with a much smoother 60FPS. Studio Wildcard writes on their website: "The Xbox One X has increased RAM, 60-70% more RAM compared to the Xbox One, which will help to eliminate out of memory issues. It also means faster loading times and better streaming due to a faster hard-drive and the ability to cache data into RAM (coming November 7th) that will allow faster and better access to repeat files. The Xbox One X will eliminate the host tether in local splitscreen mode and will increase the tether range in non-dedicated mode. Unfortunately we were unable to remove the tether completely due to CPU limitations, but we hope that players will benefit from the increased range".
Microsoft will be releasing the Xbox One X on November 7.
Related Tags