Assassin's Creed: Origins is nearly here, and Ubisoft has released a finalized list of PC specification requirements so gamers can prepare their rigs.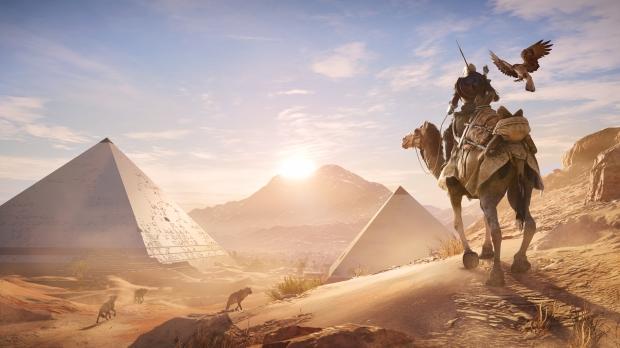 In order to play AC: Origins in 720p 30FPS at the lowest settings, gamers will need minimum PC specifications including an Intel Core i5-2400 / AMD FX-6350 CPU, an Nvdiia GeForce GTX 660 or AMD R9 270 with at least 2GB of VRAM, and 6GB of RAM. Recommended specs for playing the game in 1080p at high settings include an Intel Core i7-3770 / AMD FX-8350 CPU, an NVIDIA GeForce GTX 760 or AMD R9 280X with 3GB of VRAM, and 8GB of RAM.
"The PC platform overall is really important to us," Assassin's Creed global producer Jose Araiza said in a blog post. "That is why the PC version was developed in parallel with all the other versions by the main team in Montreal, in collaboration with our PC-dedicated team in Ubisoft Kiev. This approach was adopted while the game features were being designed, making PC and mouse-and-keyboard controls a full part of the equation from the get-go."
As a huge history buff that loves all things ancient Egypt, I'm super excited for Assassin's Creed: Origins, even if I predict the game will have built-in monetized lootboxes. AC: Origins is slated to release on October 27, 2017 for PC, PS4 and Xbox One. Check for full specs below:
MINIMUM CONFIGURATION
OS: Windows 7 SP1, Windows 8.1, Windows 10 (64-bit versions only)
PROCESSOR: Intel Core i5-2400s @ 2.5GHz or AMD FX-6350 @ 3.9GHz or equivalent
VIDEO CARD: NVIDIA GeForce GTX 660 or AMD R9 270 (2048 MB VRAM with Shader Model 5.0 or better)
SYSTEM RAM: 6GB
Resolution: 720p
Video Preset: Lowest
RECOMMENDED CONFIGURATION
OS: Windows 7 SP1, Windows 8.1, Windows 10 (64-bit versions only)
PROCESSOR: Intel Core i7- 3770 @ 3.5GHz or AMD FX-8350 @ 4.0GHz
VIDEO CARD: NVIDIA GeForce GTX 760 or AMD R9 280X (3GB VRAM with Shader Model 5.0 or better)
SYSTEM RAM: 8GB
Resolution: 1080p
Video Preset: High