Rovio, the mobile titan behind the massively popular Angry Birds, sees its second quarter and first-half revenues take flight.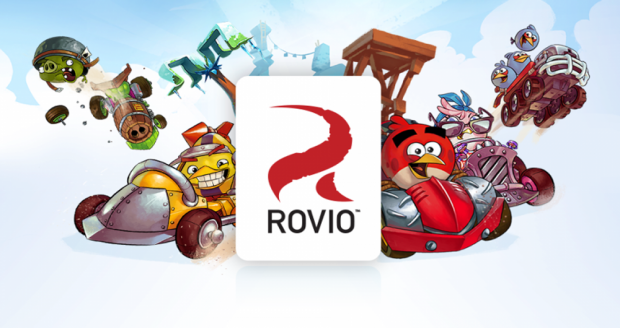 Following an earnings slide in 2016, Rovio Entertainment has rebounded thanks to the mighty success of the Angry Birds film, which helped kickstart new interest in its mobile titles. The Finnish games-maker today posted second quarter earnings of 86.2 million euros ($101.31 million) in total revenues, up a mighty 94% year-over-year.
Of that value, 61.3 million euros ($72.04 million), or 71%, was gleaned from its games segment, representing another strong 65% year-over-year increase. Rovio reports that new mobile games like Angry Birds Evolution and Battle Bay saw the most ARPDAUs (Average Revenue Per Daily Active User) in company history at launch.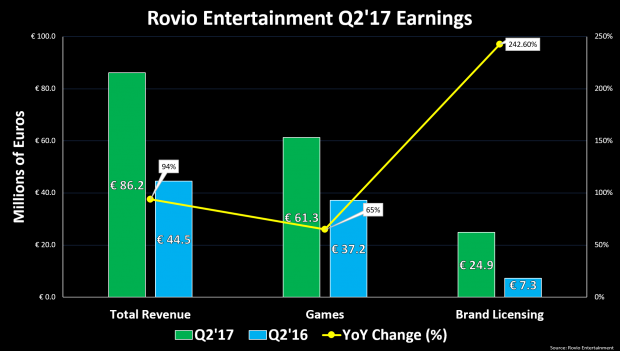 "The second quarter of 2017 evidenced true delivery of our Games-First strategy with very strong growth in revenues and profits. During the second quarter, we also finalized Rovio's restructuring and moved towards a licensing model of lower operating and capital expenses in the consumer products and animated content businesses. The benefits of these structural changes, however, have not yet been reflected in the strong financial performance we achieved in the first half of 2017," said Rovio CEO Kati Levoranta.
Rovio's strong second quarter growth has pushed the company's half-year revenues to stronger heights. First-half 2017 revenues for the company sit at 152.6 million euros ($179.35 million), up a substantial 94.3% year-over-year, of which 77% was made from games, or 117.9 million euros ($138.56 million).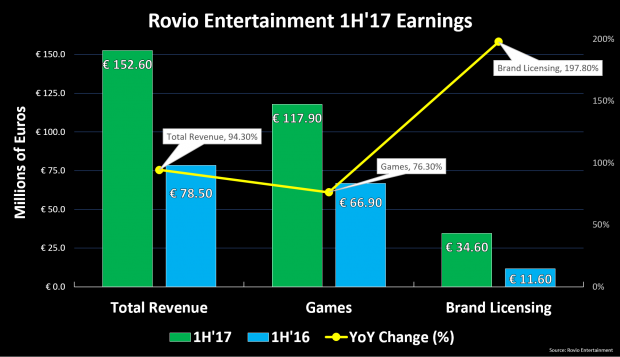 The mobile games-maker's shares may go public in a new IPO that could launch as soon as next month, sources say, potentially raising Rovio's valuation above $2 billion.
The company hopes to repeat this engagement-driven cycle with an Angry Birds film sequel in 2019 in partnership with Columbia Pictures.