Konami's first quarter earnings show the Japanese games-maker is doing quite well for itself, despite being near-universally disliked among gamers.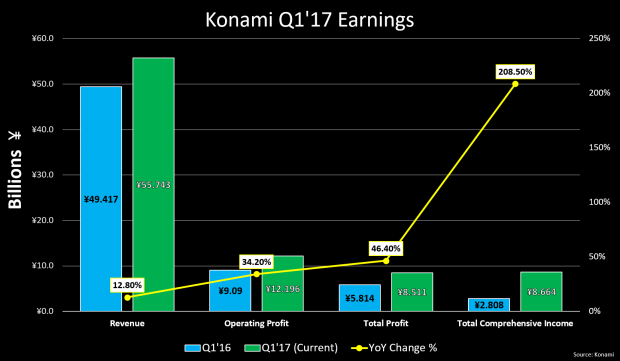 Total first quarter earnings display year-over-year boosts (note: Q1'17 is calendar year, corresponds to fiscal Q1'18).
Controversial games publisher and developer Konami kicks off its fiscal year with strong overall growth in revenues driven by successful performance of its videogame branch. The company earned total revenues of 55.743 billion yen ($503.303 million) in the quarter ended in June, up 12.8% year-over-year. Total operating profit reported for the quarter was operating profit 12.2 billion yen ($110.129 million), up a strong 34.2% from fiscal Q1'17. Konami's total profits for the three-month period are also up 46.4%, with 8.5 billion yen ($76.729 million) being generated.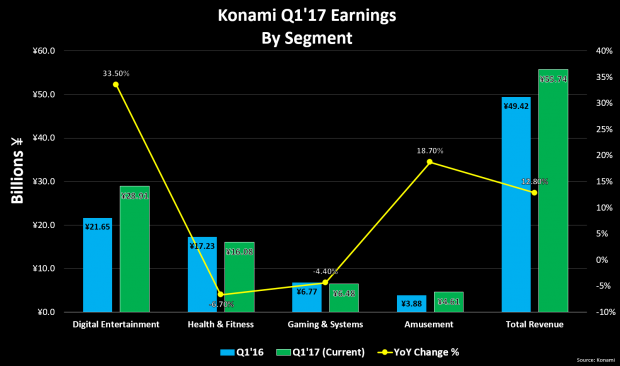 Konami's earnings segment-by-segment show impressive growth in games (note: Q1'17 is calendar year, corresponds to fiscal Q1'18).
Out of Konami's four segments, its Digital Entertainments videogame segment was the biggest contributor to fiscal Q1'18 revenues. Catalyzed by sales of the popular Yu-Gi-Oh! card game series, a PES 2017 soccer mobile game, and Super Bomberman R on Nintendo Switch, Digital Entertainments pulled in 51.87% of total quarterly revenues, or 28.914 billion yen ($261.06 million), up a strong 35.53% year-over-year.
Konami disclosed its total Fiscal Year 2018 earnings guidance for the full year, which shows estimated year-on-year segment growth. In the total FY2018 timeline Konami expects to make revenues of 245 billion yen ($2.21 billion), operating profit of 40 billion yen ($361.080 million), and total profits of 39 billion yen (352.053 million).
The company's future release slate looks bleak, at least compared to what gamers would want from Konami. Six out of its nine total games are Japan-only, and only five of them will be released on traditional platforms like PS4/PS3, Xbox One/Xbox 360, PlayStation Vita, Nintendo 3DS or PC--the rest are "arcade games", or pachinko cabinets.
Pro Evolution Soccer 2018 will be Konami's major breadwinning game for this fiscal year in terms of overseas earnings, possibly followed by online-based shooter Metal Gear: Survive.
You can see a segment-by-segment earnings breakdown below detailing Konami's full fiscal Q1'18 earnings, as well as the upcoming release slate pipeline and full FY2018 forecast.
FY18 game release slate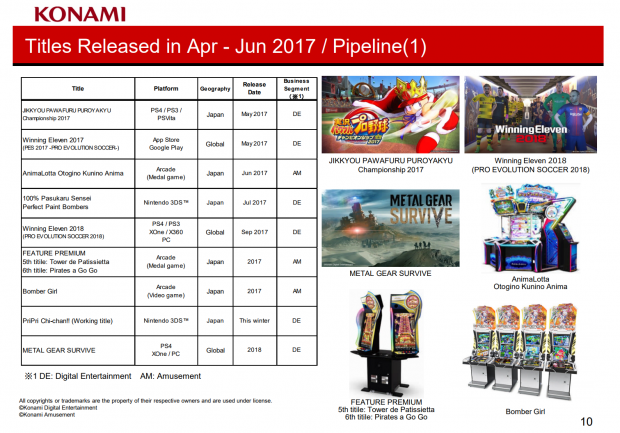 Konami fiscal Q1'18 financials at-a-glance:
*calendar Q1'17
Total Revenue
55.743 billion yen ($503.303 million)

up 12.8% year-over-year
Operating Profit
12.2 billion yen ($110.129 million)

up 34.2% year-over-year
Total Profit
8.5 billion yen ($76.729 million)

up 46.4% year-over-year
Konami fiscal Q1'18 earnings at-a-glance by segment:
*calendar Q1'17
Digital Entertainment
51.87% of total revenue

28.914 billion yen ($261.06 million)

up 33.53% year-over-year
Health and Fitness
28.84% of total revenue

16.079 billion ($146.177 million)

down 6.68% year-over-year
Gaming and Systems
11.62% of total revenue

6.479 billion yen ($58.498 million)

up 18.72% year-over-year
Amusement
8.26% of total revenue

4.609 billion yen ($41.614 million)

up 18.74% year-over-year
Total Revenue
55.743 billion yen ($503.303 million)

up 12.8% year-over-year
FY2018 guidance at-a-glance
Revenue
245 billion yen ($2.21 billion)
Operating Profit
40 billion yen ($361.080 million)
Total Profit
39 billion yen (352.053 million)