Steam sells most of its games in North America
North American PC users purchase more Steam games than any other global region, Valve reveals.

Published Fri, Jul 7 2017 11:50 AM CDT
|
Updated Tue, Nov 3 2020 11:55 AM CST
Valve Corp's Alden Kroll reveals key metrics of its titanic PC games storefront Steam, and highlights future updates coming to the platform at the Indigo showcase in the Netherlands.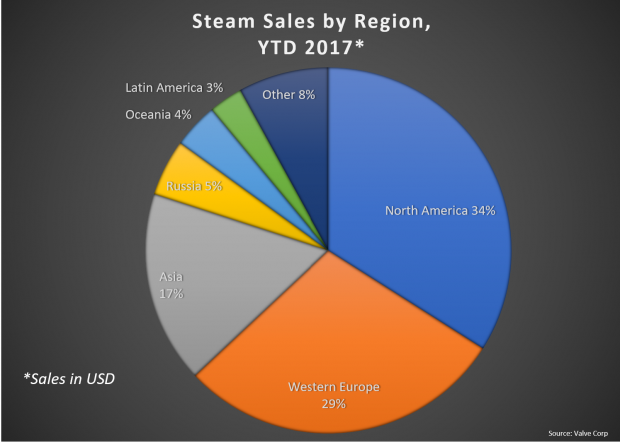 Steam, Valve Corp's colossal digital PC gaming storefront that houses thousands of games from AAA juggernauts to indies, is getting bigger and bigger every year, and Valve is finding new ways to ensure the platform doesn't get too unwieldy in size and scope. According the latest data from Valve, Steam has absolutely massive DAU and MAUs to compliment gigantic sales figures: Steam currently has 33 million active users per day, 67 million monthly active users, and gamers are buying an average of 1.5 million new games per month.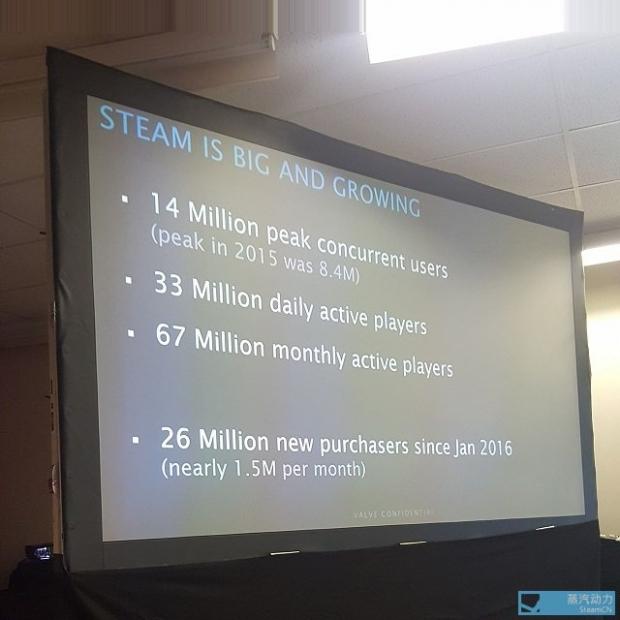 Although North American gamers spend the most on Steam games, the marketplace has a strong grip throughout the world thanks to Valve's widespread localization efforts. Mr. Kroll revealed that Steam currently supports 26 languages across the globe, and accepts payments in 28 different currencies across over 70 types of payment methods. Valve has even peppered online servers throughout the world to spread resources across key regions.
Thanks to key features like localization options, forieng currency conversion, a widespread social infrastructure and an ever-growing catalog of content, Steam users are not only loyal to the platform, but they're buying more games with every passing year--Valve reports that new game purchases increase cumulatively year-over-year for existing users.
Since Steam is always growing, Valve has to constantly formulate new plans to keep on top of the cyclopean growth with a fresh wave of new features and tweaks.
Mr. Kroll describes Steam's magical formula the same way Phil Spencer described Xbox LIVE; Valve wants to guide players towards content whilst connecting users together via a social-based friend system and in-game multiplayer. Once in this ecosystem, players get "sticky" and have a sense of loyalty, and are more willing to purchase more content to fuel specific experiences.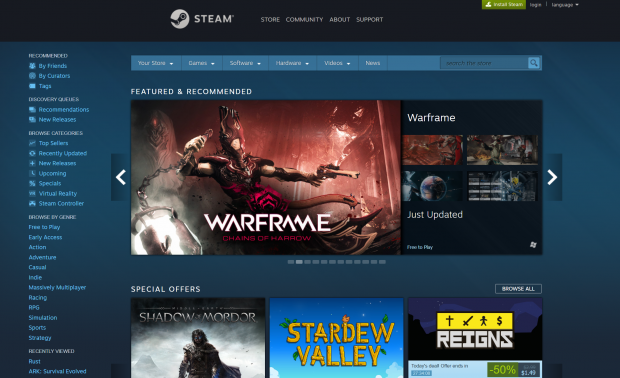 Valve knows that curation and game visibility is extremely important, and the company plans to roll out more organic methods for players to discover new content that fits their interests. This sense of persponalization adds another layer to the social-based ecosystem and further fosters a sense of identity, which in turn builds loyalty.
Steam's curation system will get a new update that allows users to check out live game streams and broadcasts made by curators across YouTube and Twitch, further adding another layer of interactivity between curators and users. Curators will also be able to link video reviews to their lists to improve visibility.
Developers will also be able to directly send game keys to Steam curators and personalities for a more direct approach. This will create a more organic path to the above mentioned streams and broadcasts, and, as a result, organic visibility.
All in all Valve has lots of plans for Steam, and rightly so: the titanic games service requires a constantly-evolving strategy in order to keep users engaged, consuming content, and more importantly, buying new games.
For a full list of updates and new content coming to Steam, check the complete Indigo presentation here.
Related Tags