SEGA's profits increase by 421%
SEGA earned four times as much profit as last year, and outlines its future goals and sales forecasts.
Published
2 minutes & 31 seconds read time
SEGA's net profits have surged four-fold year-over-year, and the Japanese games-maker hopes to continue the strong momentum with a new business plan.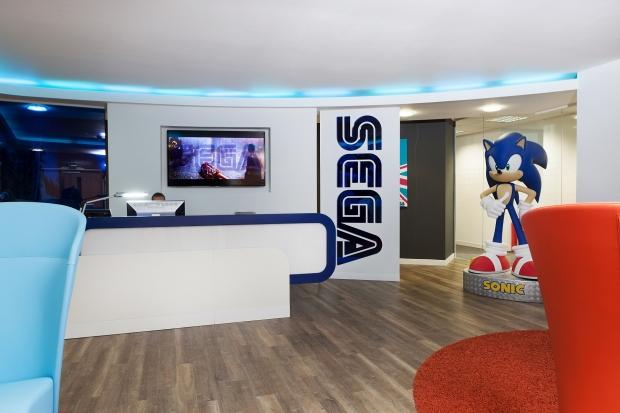 In Fiscal Year 2017 (April 1, 2016 thru March 31, 2017) SEGA reported profits attributed to parent (net profits) of $242.9 million, or 27.6 billion yen, representing a mighty 421% year-over-year increase. These Japanese entertainment company saw increases in sales and operating income, too; SEGA earned $3.23 billion (366.9 billion yen) in sales, up 5% year-over-year, and a tremendous increase in operating income with $259.7 million (29.5 billion yen), representing a 68% year-over-year increase.
SEGA's profits were boosted significantly due to strong performance of its amusement, digital entertainment, and resort segments; SEGA shipped 17 games overseas which performed quite well in sales, and enjoyed surges in mobile games and pachislot/pachinko revenue.
SEGA's games entertainment segment was by and large its breadwinner in sales, pulling in over half of the company's total sales. The Entertainment Contents sector made $1.81 billion (205.7 billion yen) in sales, or 56% of SEGA's total $3.23 billion (366.9 billion yen) in sales.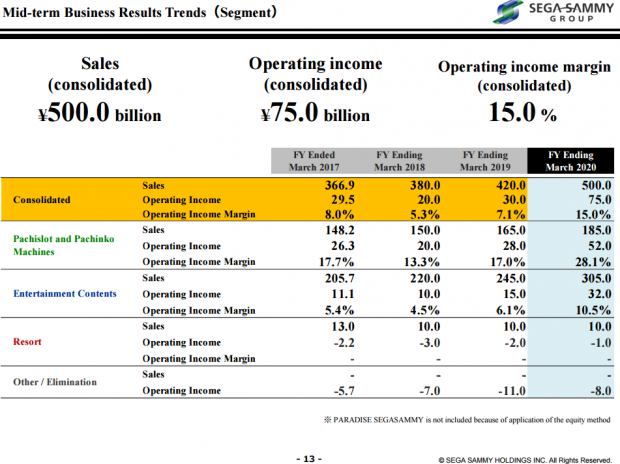 The company expects its Fiscal Year 2018 (April 1, 2017 - March 31, 2018) performance to top FY2017 in sales, but drop in operating income and overall profits. SEGA forecasts it will make $3.34 billion (380 billion yen) in sales, representing a 3.57% year-over-year increase. This marked sales increase will result from SEGA releasing a number of new games, including new IPs, re-releases in hit IPs, and sequels in best-selling IPs.
However, SEGA will release most of these games digitally on mobile, PC, and console: SEGA is "planning to increase sales year-on-year for the digital game field in the Entertainment Contents Business due to increase in number of new titles to be launched."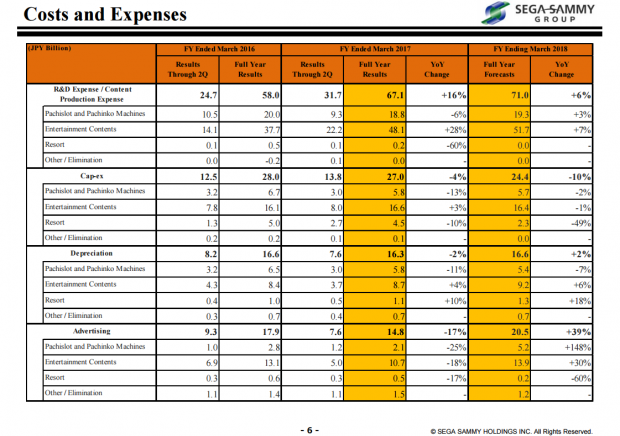 As we reported earlier, SEGA will spend $455.1 million research and development to facilitate a number of new digital and packaged games, which will all fall into it's four-point IP pathway: revival IPs, existing IPs, new IPs, and external IPs.
The company says it will "expand existing IPs and obtain new IPs for North American and European PC games," as well as "revive major IPs."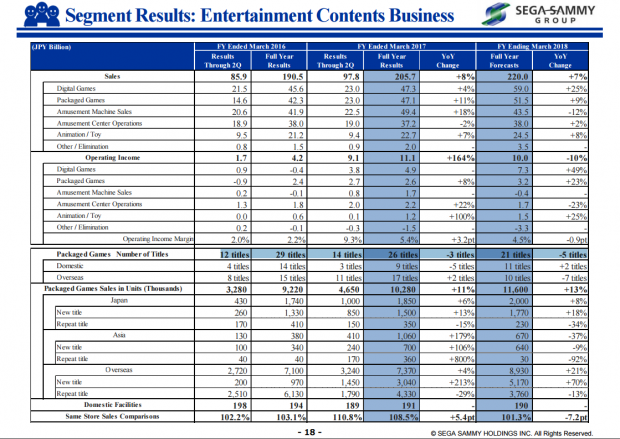 SEGA sells by far most of its packaged games overseas, with 7.37 million units shipped overseas last year versus 1.85 million units in Japan. Interestingly enough, SEGA plans to sell less packaged games across all regions, with only 10 games overseas versus last year's 17 titles, and 11 games domestically in Japan, up from 9 titles from last year.
Due to this discrepancy in projected sales and shipments--and SEGA's own words--we can assume SEGA will release most of its games digitally, however it's worth noting that mobile gaming, not PC or console gaming, leads the company's digital market. SEGA confirms that it will increase its mobile game release schedule in FY2018.
Furthermore, SEGA was careful to note that only "big hit" IPs would be selected for revival, and the franchises would be stretched across PC, console as well as mobile, not any one singular platform.
It'll be interesting to see what SEGA has in the pipeline, but all signs point to an amazing year for SEGA fans. We should see a swath of new localized releases, sequels, and PC game releases like never before.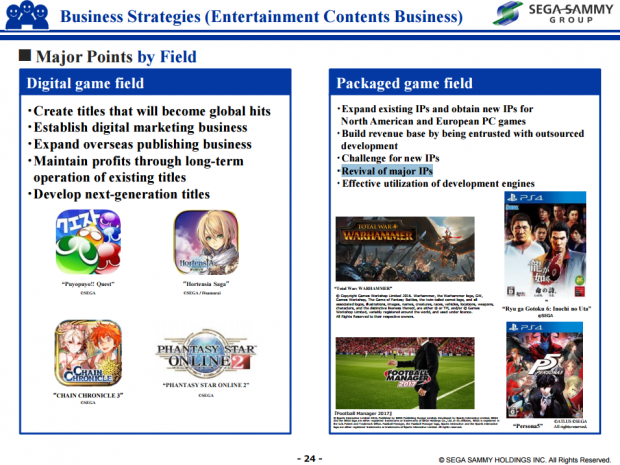 Related Tags