SEGA plans to revitalize and revive older dormant IPs in its back catalog of games, but the publisher will be careful to only bring back and port over more popular games.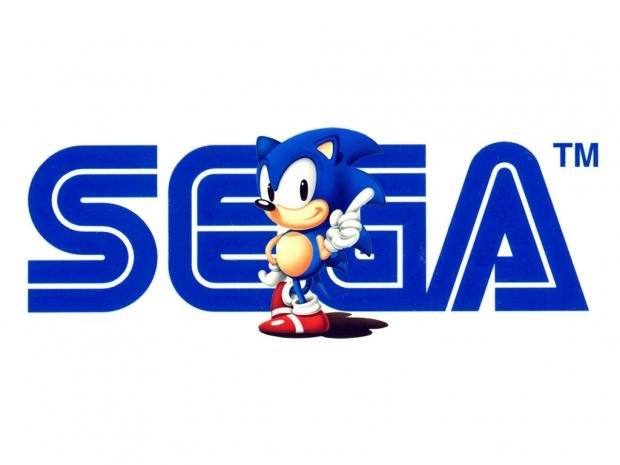 In SEGA's Road to 2020 briefing the Japanese publisher discusses its future plans for Fiscal Year 2018 and beyond, saying that it plans to tap its wealth of popular IPs and spread them across all major platforms--mobile, PC, and console. This revitalization will happen on both physical packaged game sales and digital games, albeit in different capacities: SEGA says that it will select titles carefully, aiming for bigger hits via popular and profitable franchises and IPs.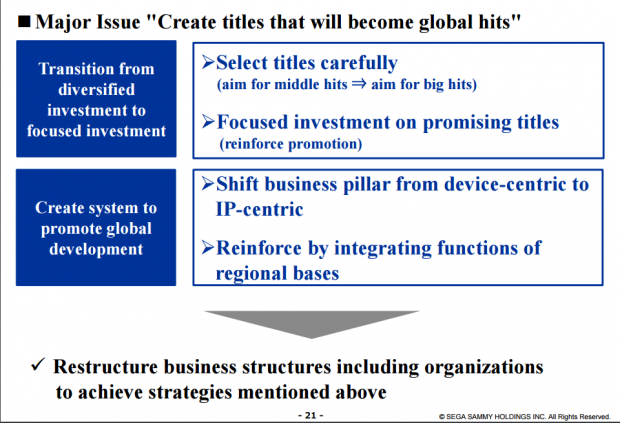 But it's main goal is to "create IPs that will become global hits," suggesting its games will see more localization than ever before. SEGA will now be IP-focused instead of device-focused, and aim to stretch all strong IPs across mobile, PC and consoles.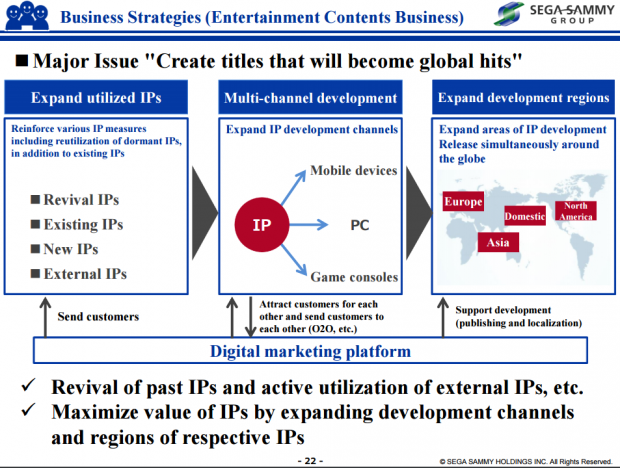 However, SEGA will actually ship less games this year: it'll only ship 21 packaged titles in FY2018 versus the 26 it shipped in FY2017.
When it comes to digital games, SEGA plans to "expand existing IPs and obtain new IPs for North American and European PC games," as well as "revive major IPs," and focus on tighter use and implementation of development engines to ensure its games are high-quality.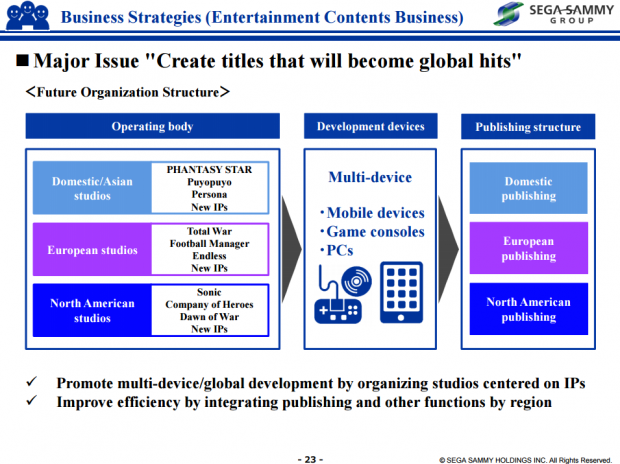 However, SEGA's new revitalized IPs should be different on a region-to-region basis. That isn't to say there won't be cross-overs, but SEGA will strategically pick games that North American users like and release them to North America, instead of misappropriating each market's tastes.
SEGA has three regional publishing arms: North American, European, and Domestic (Japanese), all of which will churn out new IPs and ports of classic IPs to their respective audiences. The games will be different, but like I said, we should see some cross-overs on all platforms, be it PC, console, or mobile.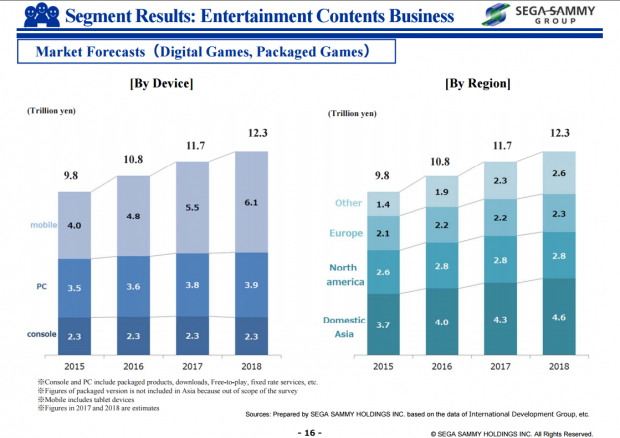 So what does this mean exactly?
SEGA will bring back only the most popular IPs and games, and it won't just be a remaster on PC like we're seeing with Bayonetta or Vanquish on Steam--that will absolutely be part of it, but not the whole, and SEGA will transcend PC with mobile integration (where it makes sense, of course) as well as console integration, if it doesn't already exist yet.
New games in classic franchises is also possible and highly likely. We could see a new Bayonetta game, a new Persona game, or a new Yakuza game. And we should see more games cross over to PC...but I highly doubt any Persona or Yakuza games will make the jump.
SEGA will also ensure all ports and games run smoothly on all platforms by focusing on stronger proficiency in game dev tools and engines. SEGA's PC ports already run great, and now they should run even better.
SEGA is embracing the digital age of engagement and monetization and applying this new strategy to its entire IP lineup, instead of just keeping key IPs to one specific platform. Don't be too surprised if obscure games don't get remastered or revitalized with new games
Nintendo has enjoyed success with this strategy, as has EA and especially Activision-Blizzard with Hearthstone.
Remember, SEGA makes quite a bit of gaming revenue from mobile, which drives its digital games initiative.
SEGA expects the total mobile games market to rake in 5.5 trillion yen in 2018, compared to 3.9 trillion yen on PC and 2.3 trillion yen on consoles.
The games-maker definitely wants to do what it can to pull in a significant portion of those earnings--and based on its performance in the sector, I'd say it has a pretty good chance to do so.
SEGA's plans for FY2018 and beyond
Reinforce various IP measures including re-utilization of dormant IPs, in addition to existing IPs

Promote multi-device/global development by organizing studios centered on IPs

Revival of past IPs and active utilization of external IPs, etc.

Maximize value of IPs by expanding development channels and regions of respective IPs