Mario Kart 8 on Switch sold 459,000 units in first day
Nintendo confirms Mario Kart 8: Deluxe on the Switch is the fastest-selling game in the franchise's history.

Published Mon, May 1 2017 5:10 PM CDT
|
Updated Tue, Nov 3 2020 11:55 AM CST
Mario Kart 8: Deluxe has smashed sales milestones and explodes onto the U.S. market with almost 500K sales in its first day.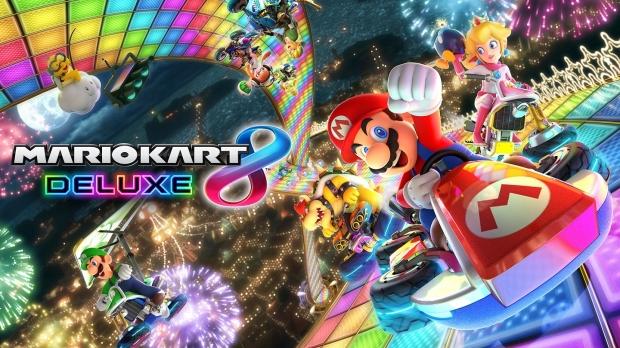 Nintendo today announced that Nintendo Switch's new Mario Kart 8: Deluxe sold a total 459,000 digital and physical sales in a single day within the United States alone. The new racer is now recognized as the "fastest-selling game in the long-running Mario Kart series." The game has a high attach rate of 45%, which means that almost half of Nintendo Switch owners bought the game at launch.
A bit of quick math shows Nintendo made about $27.5 million in a single day's sales of Mario Kart 8: Deluxe in the United States. Remember that the Nintendo Switch's first-party market was sparse before Mario Kart 8 launched on the handheld-console, so it certainly makes sense why so many gamers purchased the title. It's absolutely one of the must-have games for the system, and Nintendo is gearing up its other first-party games like ARMS and Splatoon 2 to be system-sellers as well.
In other Nintendo news, the Japanese console-maker reported staggering profits in its FY2016 earnings, mostly bolstered by the Switch's record-breaking sales. The Switch sold 2.7 million units in just 29 days, earning Nintendo am estimated $822 million in global sales.
Nintendo's Fiscal Year 2016 earnings showed strong growth across the board, with bottom-line profits up by 521% The company made an incredible 102.5 billion yen ($922.5 million) in profit attributed to parent (total profit gains) in its last year of operations, up by 521.5% from last year's 16.5 billion yen.
Nintendo plans to keep the Switch's tremendous hardware and software sales momentum going with its strong first-party lineup, including ARMS in June, Splatoon in July, and Super Mario Odyssey in Holiday, and offer a "continuous stream of third-party games" to bolster sales in between major release windows.
To see what we thought of Nintendo's unique handheld-console hybrid, check out our feature-length review.
Related Tags