PS4 sales made up 51% of 2016's global console market
Sony continues dominating Microsoft in the console front, selling almost double than its main competitor during 2016.

Published Fri, Mar 17 2017 4:15 PM CDT
|
Updated Tue, Nov 3 2020 11:56 AM CST
Sony's long-standing console reign shows no signs of slowing down: the PlayStation 4 continues to dominate over Xbox in terms of sales and total console market value, growth, and momentum.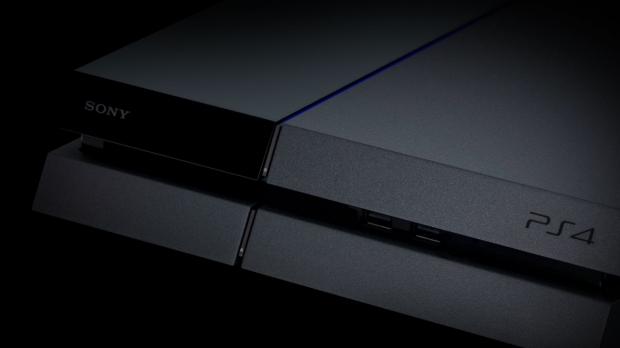 According to analyst firm IHS Markit, the global console market earned a total of $34.7 billion in 2016.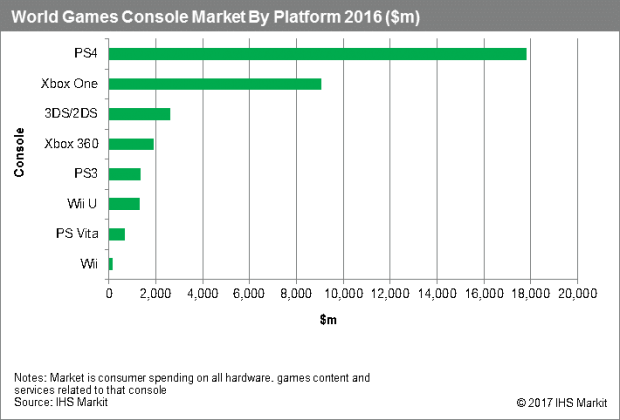 Sony's PlayStation 4 raked in a staggering $17.8 billion of that total global value, representing more than half of the total global console market's earnings. Microsoft's Xbox One pulled in $9.1 billion, or a 26% share. IHS notes that the PS4 was responsible for "almost double the sales value of hardware, content and services compared to its closest competitor Microsoft's Xbox One."
Naturally Sony's PS4 install base skyrocketed to 53 million in 2016, and Microsoft's Xbox One secured about 52% of that total at 27.6 million total owners.
Interestingly enough 2016's total console market earnings was down by 2.5% compared to 2015's total earnings of $35.6 billion. The firm contributes this dip due to hardware price slashes on Sony's PS4 "Slim" and 2013 launch models, as well as Microsoft's original Xbox One, in the wake of their respective PS4 Pro and Xbox One S hardware refreshes.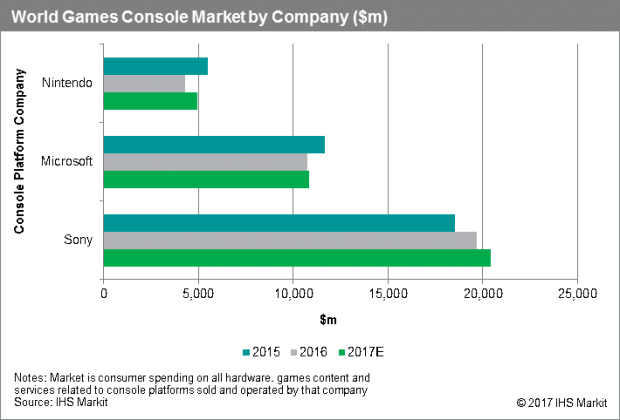 The market is expected to bounce thanks to two new major platforms: Nintendo's new Switch console-handheld system, and Microsoft's "monster" 4K-ready Project Scorpio console. These new systems are also expected to raise the overall market share and profitability of their respective companies.
Sony's digital presence is currently worth $4.4, IHS estimates, not including subscriptions like PS Plus, PS Vue, PlayStation Now, and others.
It'll be interesting to see if Microsoft can close the gap with its new range of strategies, including Play Anywhere cross-play and cross-buy games, Xbox Game Pass, unifying Xbox and Windows 10 PCs together in a cross-platform ecosystem, and, of course, its potent new enthusiast-grade Project Scorpio console.
Related Tags