Mass Effect: Andromeda launch trailer drops out of orbit
BioWare sets the tone for its new space pioneer Mass Effect game with a cinematic launch trailer.

Published Sat, Mar 11 2017 10:13 AM CST
|
Updated Tue, Nov 3 2020 11:56 AM CST
After years of waiting, reporting, and hype, BioWare's latest launch trailer reminds us that Mass Effect: Andromeda is really happening and it's dropping quite soon.
The Mass Effect: Andromeda launch trailer is more cinematic and thematic than previous reels, and is meant to be more accessible to consumers and gamers alike. But I have to say it's a bit...weird. The song just doesn't fit (both the lyrics and the tunes, considering this is a game about finding new worlds to co-exist alongside other aliens...and in reality, you're the alien out in the Andromeda Galaxy) and seems off. It just doesn't seem like something I'd pick for a Mass Effect game.
The actual footage, however, gives us a glimpse at what to expect from the game's visuals. This is where the game shines. BioWare confirms that the footage was captured in-engine despite most of it being cinematic sequences, and the footage is representative of the final product we'll be playing on March 21. I'm guessing it was captured on a high-end PC outfitted with an NVIDIA GeForce GTX 10 series GPU.
Remember that Mass Effect: Andromeda will be quite demanding on PC, and EA estimates that a GTX 1060 will only hit 1080p 30FPS in High presets; to hit anything above that you may need at least a GTX 1070.
BioWare was also careful to say "4K resolution not available on all platforms," but this probably only applies to Xbox One, as the Xbox One S can upscale games to 4K on UHDTVs and ME: Andromeda will run at 4K 30FPS on PS4 Pro.
And PC of course will be able to leverage NVIDIA's high-end GeForce GTX 1080 and its new monstrous GeForce GTX 1080 Ti for smooth 4K gaming.
I have to say that the facial animations are still awkward, and there's a very standardized vibe, but we'll reserve our full judgements for our review of course. I'm absolutely willing to give BioWare the benefit of a doubt, especially after that explosive combat demo and how amazingly fun skill combos look to be.
Mass Effect: Andromeda will blast into orbit on March 21, 2017 for Xbox One, PS4 and PC.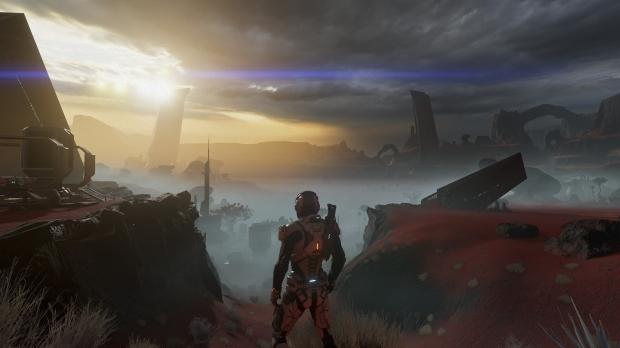 Related Tags