Nintendo indies: if it's on Steam it should be on Switch
Nintendo has taken great lengths to court indie developers to ensure its new Switch console has a steady flow of games.

Published Wed, Mar 8 2017 12:07 PM CST
|
Updated Tue, Nov 3 2020 11:56 AM CST
Nintendo has changed. With its new Switch handheld-console hybrid, the Japanese console-maker of yore has done away with clandestine business models and embraced the future. Nintendo is actively courting game developers of all kinds to ensure the Switch has a massively growing and steadily flowing games library, and indie devs are a big part of that push.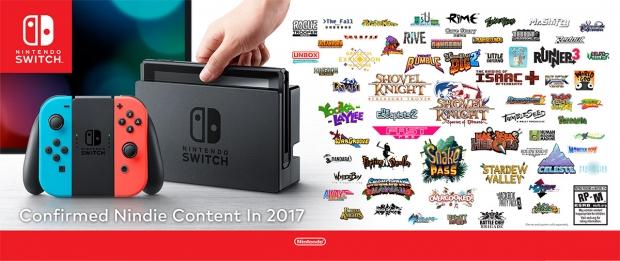 The way Nintendo sees indies is similar to how Sony strategically uses them as bite-sized snacks via PS Plus to tide gamers over in between big releases. Nintendo will do the same, but it's planning to actually match Sony's indie commitment, and eclipse Microsoft's ID@Xbox altogether. In fact, Nintendo's head of publisher and developer relations Damon Baker, if an indie game is on Steam, it should be coming to the Switch too. But Nintendo doesn't want to lock exclusivity like Microsoft--the Switch is a complimentary system.
"The way we're looking at Switch is this is a complementary platform. If it's on Steam, then there's no reason why it shouldn't be on Nintendo Switch as well," Baker told Games Industry.biz in a recent interview. "If you want to take that experience on the go, if you want to have a baked in multiplayer experience, this is the system to do it. It's got those points of differentiation, but we're not trying to go head-to-head against any of the other platforms. We just think that if the content makes sense to be over on our platform then it should be on our platform."
Nintendo currently has over 100 games in development from 80 developers, and about 60 indies on the way, including anticipated hits like Steamworld Dig 2, Yooka Laylee and Stardew Valley. But it doesn't stop there: Nintendo has actively courted indie publishers too, including Double Fine, 505 Games, Devolver Digital, Team 17, and many more.
"Steamworld Dig 2 is a sterling example of what Nintendo Switch was built for: amazing content that puts smiles on faces. Our teams have been working closely with independent publishers and developers to secure a constant flow of innovative content that showcases the fun of playing games," Baker said during Nintendo's recent Nindie's Showcase.
Some of the games highlighted in the Nintendo Switch Nindies reveal are:
SteamWorld Dig 2

What the Nindies Are All About

Yooka-Laylee

Overcooked!

The Escapists 2

Gonner

Dandara

Kingdom Two Crowns

Runner 3

Blaster Master Zero

Flipping Death

Graceful Explosion Machine

Mr. Shifty

TumbleSeed

Shakedown: Hawaii

Pocket Rumble

WarGroove

Stardew Valley
Baker affirms that Nintendo will keep the flow consistent rather that "opening the floodgates," meaning gamers will get a more regular offering of indie games versus a massive catalog to sift through. This will allow developers to get proper visibility and maintain a steady staggering of content--a lesson that Nintendo learned the hard way with the Wii U.
And indie developers love this idea.
"I'll want it to be curated somehow because I don't want to be stuck - that's the problem with Steam right now because I feel like I'm just shovelware. It doesn't matter if there are so many users on Steam, because if you can't reach any of them with all the noise [in the marketplace] it doesn't matter. It's much better to get out on a platform where you can be seen," Zoink CEO and creative director Klaus Lyngeled told Games Industry.biz in the same interview.
All in all I think this is absolutely great for the platform, and will help Nintendo facilitate a strong library of innovative, quirky, and fun titles that compliment its big-budget first-party titles and heavy-hitter third-party ports.
The Nintendo Switch is now available, and keep an eye out for more coverage in the coming weeks. We'll also have our Nintendo Switch review up soon, but for now check out our massive Switch content catalog to catch up with all the latest news.
Related Tags