PlayStation trolls the Switch on day 1, hilarity ensues
Nintendo is taking some jabs from Sony about the Nintendo Switch pricing in a snarky way.
Published Tue, Mar 7 2017 10:42 AM CST
|
Updated Tue, Nov 3 2020 11:56 AM CST
It's no surprise that people got pumped for the Nintendo Switch release on March 3rd. They will pay whatever amount of money in order to get the latest and greatest from Nintendo. Yet, some of them (like myself) are not too fond of shelling out the extra cash for games since none are included or the optional Pro controller ($69.99) or even an extra set of Joy-Con ($79.99). Derek, our gaming editor, found it out the hard way when he had to spend almost 50% of the console price, at his local Walmart, to get a Pro controller along with a copy of Breath of The Wild. Sony, on the other hand, decided to laugh at this practice by slashing its PS4 Slim price by a third on the Nintendo Switch launch day.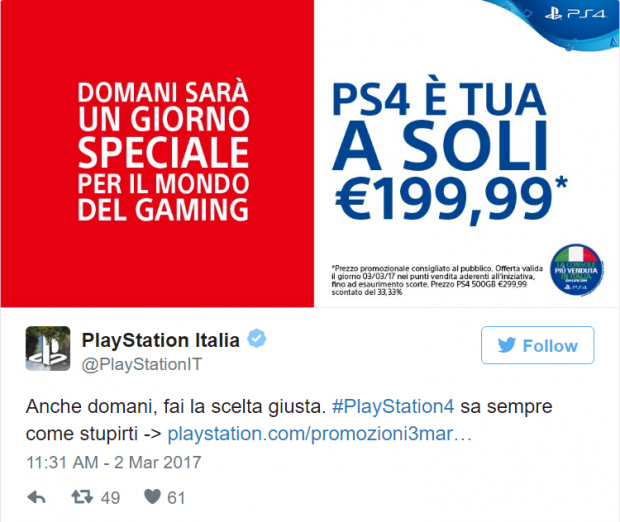 Sony Italia posted this post over at Twitter today . Thanks to the Italian translations provided by Jordan Coetsee over at Gameranx , we will be able to read this amusing tweet.
The text in the red square translates to: "Tomorrow is a special day for the world of gaming," followed by the words in apparent PS4 colors and logo, "PS4 is yours at only €199,99." The text in the tweet supports the image by saying: "Even tomorrow, make the right choice. PlayStation 4 always knows how to surprise you."
Of course, this is a temporary deal over at Europe but you gotta wonder if Sony has planned this all along... Either way, Horizon Zero Dawn, and Breath of The Wild are getting perfect scores everywhere. Our gaming editor, Derek Strickland, surely got his work cut out for him since he got both of them under his scrutiny eye.
We got more Nintendo Switch content coming this weekend! Stay tuned!
Related Tags