Fallout 4 PS4 Pro patch will add native 1440p resolution
PS4 Pro owners will soon be able to play Fallout 4 in native 1440p with improved textures, effects, and more.

Published Mon, Jan 30 2017 4:41 PM CST
|
Updated Tue, Nov 3 2020 11:56 AM CST
Fallout 4 is finally getting its long overdue PlayStation 4 Pro Forward Compatibility patch that will upgrade resolution to native 1440p and boost atmospheric effects.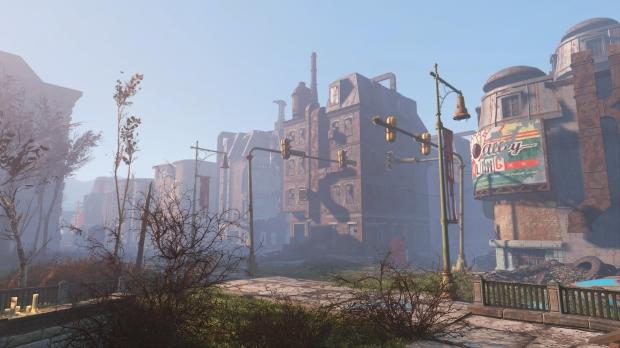 Bethesda today announced the features of Fallout 4's upcoming PS4 Pro patch, which will upgrade the game's base resolution to 2560 x 1440, however no details were given on a 1080p 60FPS mode. We expect the 1440p mode will be capped at 30FPS like the base game.
Fallout 4's PS4 Pro patch will also improve draw distances for environments such as trees, grass, basic objects and NPCs. Gamers will also get improved godray effects for realistic and immersive lighting effects.
If you have Fallout 4 on PC, Bethesda will roll out a massive high resolution texture pack in an official update. This texture pack will be 58GB, however if you're playing on PC odds are you already have a texture pack installed (or maybe a few) via the game's expansive mods.
Finally Bethesda says they'll update the mod support portal on Fallout 4 and Skyrim Special Edition across all platforms, but no official details were revealed.
Check below for a quick checklist of the announcements.
Next week, we're rolling out new updates for both Fallout 4 and Skyrim Special Edition across Xbox One, PlayStation 4, and PC. Both games are bringing new features to Mod content (more on that next week), and specifically for PlayStation 4 Pro users, we are thrilled to share details on our official PS4 Pro support.

FALLOUT 4 GOES PRO FOR PS4

Beginning next week, Fallout 4's Update 1.9 on PlayStation 4 adds support for the power of the PlayStation 4 Pro console. The update provides enhanced lighting and graphic features, including:

Native 1440p resolution

Enhanced draw distance for trees, grass, objects and NPCs

Enhanced Godray effects

To experience the improvements provided with our PS4 Pro update, load up Fallout 4 and download the latest title update when it becomes available.
Related Tags