Bethesda Softworks today announced that Arkane's new re-imagining of Prey will release on May 5, 2017 on PS4, Xbox One and PC.
Prey is a rather interesting slice of creepy psychological horror infused with innovative FPS elements; in many ways it hearkens to 2001: A Space Odyssey with an ominous Dead Space touch, and a nice helping of Dishonored-style infused-yet-corrupted alien superpowers. But make no mistake: this isn't a reboot or a sequel, but a cerebral new re-imagining of the Prey franchise at the hands of Arkane.
"Prey is not a sequel, it's not a remake, it has no tie with the original. You have to look at it as a re-imagining of the IP," says Raphael Colantonio, president of Arkane Studios and creative director of Prey.
"Prey isn't just about shooting aliens. It's more of a hybrid game where narratives mix with action and a little bit of an RPG layer. So you have some weapons, but you have lots of other things too, including powers you can learn from the aliens themselves. But Prey isn't horror. Not really--it's more of a psychological thriller."
"It's not horror. The psychological thrill dimension is morphed around the theme of identity. You know, who are you exactly as Morgan Yu," Colantonio said.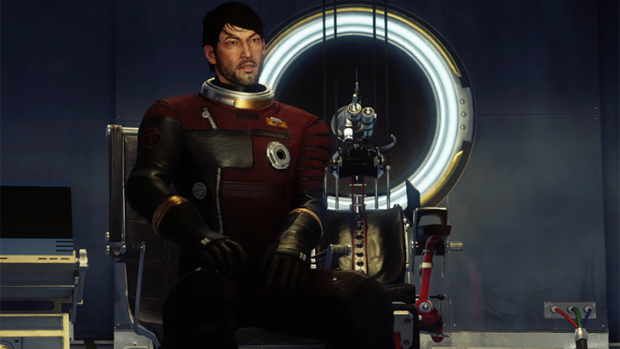 "I keep having this dream. I'm staring at the black between the stars. There's something there. I know there is. I can't see it, but it sees me. It sees...everything."
Players take on the role of Morgan Yu, who can be either female or male, tying in with a kind of fractured identity crisis--who are Yu really? It's almost as if the entire game was built around Nietzsche's immortal quote: "When you look into an abyss, the abyss also looks into you."
Yu (or you, whichever you prefer...they're kind of one and the same here) will be imbued with specific supernatural powers thanks to a kind of alien infection called Typhon, which reminds me of a kind of gestalt reanimated form of the black oil from The X-Files. From what I've seen in the gameplay we'll get progressively more and more powerful as time goes by, but that probably comes at a cost: the power comes from the infection, the alien within, which could eventually wipe out the player's identity if left unchecked.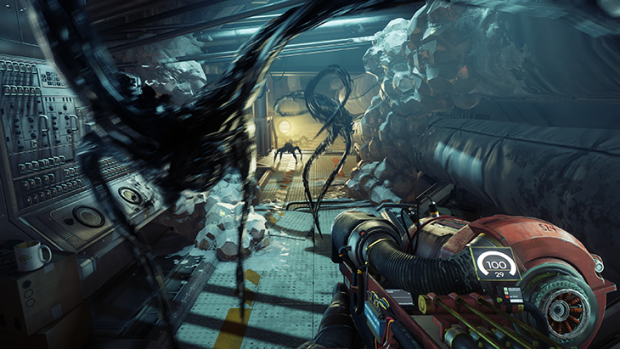 Outside of the psychological thriller aspects, Prey promises to be an interesting FPS shooter with customizable alien powers and RPG aspects. It even has shades from Dead Space's DIY-style fix-me-up weapon crafting, and you'll even use these weapons and items to solve mini-puzzles throughout the game.
What's more is that Arkane is doubling down on PC support for Prey, and has affirmed they'll take this version of the game quite seriously. After Dishonored 2's rocky launch on PC the devs are keen on building a solid base for the platform, and according to Arkane's Raphael Colantonio, the team will make sure Prey's PC port is flawless before it ships.
Prey launches worldwide on May 5, 2017 on all platforms and is now available for pre-order.
Check below for a copy of the official announcement from Bethesda.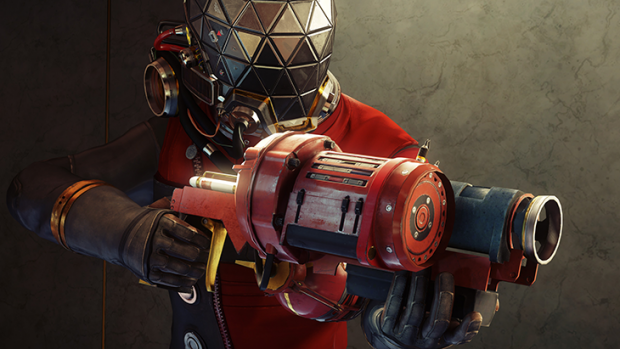 "What the hell have you done?"

Near the start of the trailer, we hear a gravely voice questioning... someone. "What the hell have you done?" he growls. Shortly after, a different voice pierces the chaos with a panicked fervor: "Oh my God! Security! Security!" Clearly, something's gone very wrong aboard Talos I. The Typhon aliens have escaped containment, slaughtered many of the people aboard, and now have free reign on this massive space station.

The Office of Morgan Yu

Who exactly is Morgan Yu? While Prey's protagonist remains shrouded in mystery (for now), one new detail has been revealed thanks to a quick glimpse of his office door. Morgan is the VP, Director of Research for TranStar Corporation aboard Talos I.

Playing with Powers

What kind of research is Morgan conducting aboard Talos I? Among other things, he had been studying the Typhon aliens. "We've been testing a new kind of Neuromod based on the Typhon organisms," he says in the trailer. These Neuromods are what you use to gain alien powers. And you "install" these powers by injecting needles into your eye socket. Ouch!

Making copies

The trailer shows several different Typhon in action, including the Mimic, which can do exactly what its name suggests: copy almost anything in the space station. Once you learn this alien's power, you can do the same - mimic anything that's roughly the mass of the player or smaller, and that's not bolted down. Later in the trailer, we show Morgan using a higher-level version of the Mimic ability, becoming a fully functioning turret and blasting away some aliens.

Take a shot

Powers are great, but sometimes you just want to shoot something. That's where the weapons come in. The new trailer shows off a range of firearms, including: the S4 Tactical Pump Shotgun, the GLOO Cannon (also handy for building new traversal paths and covering up gaseous jets of flame), the Typhon Lure, the Q-Beam (or "TS-QPB-S11 Quasiparticle Beam," to be precise), the Disruptor Stun Gun, a Recycler Charge and, of course, a handy wrench when you just need to bash an alien in its alien head.

All aboard

We already said the Talos I is massive. But the station is also a fully contiguous area that you can explore at will - both inside Talos I and out in the cold vacuum of space. Along with the stately "neo-deco" lobby and lavishly appointed offices, Talos I includes austere laboratories, an industrial underbelly, a lush arboretum and many other diverse areas to explore. Just beware: you never know what lurks around the bend.

COSMONAUT SHOTGUN PACK

Along with Prey's release date, Bethesda revealed the Cosmonaut Shotgun Pack. Exclusively available when you preorder the game, this pack includes a few new tools that'll come in handy when fighting the Typhon. Along with three Neuromods (which you can spend to acquire new abilities), two medkits, and a fabrication plan to create shotgun ammo (because ammo, in general, is scarce aboard Talos I), you'll also receive a Yu family heirloom - the Margrave shotgun.

Designed especially for Catherine Yu's participation in the Centennial European Shooting Championship, the Throne Margrave is a masterpiece of firearm craftsmanship. Mahogany stock, a proprietary metal-alloy barrel and 24-karat gold inlay combined with superior electronic gun control systems deliver the ultimate shooting experience. Mrs. Yu worked closely with Throne ergonomic experts to make this gun an extension of the shooter's body - fast to point and easy to discharge.

The Cosmonaut Shotgun Pack also includes one unique upgrade that'll help you preserve your limited resources. Preorder today to receive the Cosmonaut Shotgun Pack.