The second day of the European Business Angels Network (EBAN) was dedicated to one of the most interesting technology topics and breakthroughs in recent years - artificial intelligence. The main speaker was IBM's Peter Hedges, one of the main experts in charge of the development of the famous Watson and head of IBM's cognitive computing in Europe.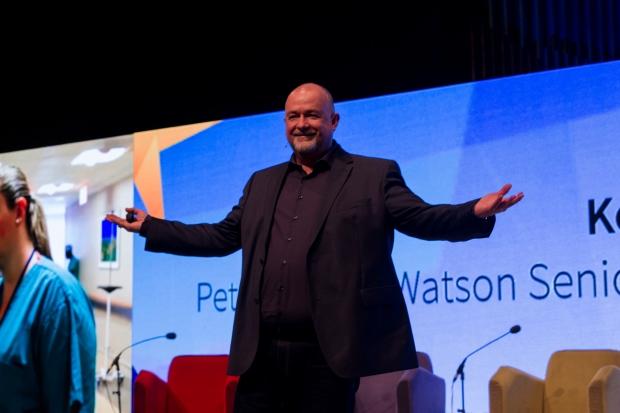 Hedges started his keynote by saying that they started the Watson project ten years ago because they wanted to develop a system that can understand natural language. Just five years later, Watson has beaten the best players in Jeopardy.
"That was just the beginning. We later went on to teach Watson about medicine, finance, law...not so it could replace doctors or lawyers, but because it could be a great help to them", said Hedges, who has worked at IBM for over thirty years and still talks with the same enthusiasm like it's his first day at work.
To convey a sense of just how huge Watson is, Hedges said that half of billion people interact with something that's connected to the most famous cognitive computer, which, he added, isn't an actual computer but rather a system in a cloud. He went on and stated that by the end of next year one billion people with interact with Watson in one way or another.
You think that artificial intelligence is something that's coming? You're wrong, it's already here. Today, 500 million people already communicate with Watson or services that this software is servicing, such as systems in health care, student services, and even children communicate to Watson through specialized toys. These toys are capable of responding to children's voice and can communicate with them. By the end of next year, we anticipate that this number will increase to one billion people who will have access to cognitive services, and most of them won't even be aware of it.
Hedges explained that today they are teaching Watson a lot of new things, and they are constantly improving it. As an example, Hedges said that Watson can understand Twitter posts or what's happening in a certain video. He's also extremely proud that there are more than 50 new cognitive technologies whose development is based on Watson.
Watson is constantly learning, and today, it can understand eight languages, it is associated with 20 industries, and more than 80,000 developers use it while working on new products. It (I'm writing "it" cause Hedges specifically noted that Watson can not be referred to as a "he" or "she," Watson is "it"; it doesn't have a gender) is also extremely fast. The same amount of data that would take six to ten years for a person to read, Watson can read and remember in a week.
Traditional computers are brilliant with large amounts of structured data. However, 80% of the business system isn't structured, and social networks have 100% of unstructured data. Let's put it this way - a man sees two photographs, both show one child. That person can recognize that on one photograph is his niece and on the other one someone else's child. Our brain can do that, but traditional computers can't. That's why we created software that will learn and understand in the same way as the human brain; that will understand the context. Only, Watson is much faster than the human brain. And even if it makes a mistake, it will learn and do it better next time. That's cognitive system.
During a panel discussion on artificial intelligence, Hedges said that Watson is constantly learning specific branches of industries. At the moment, Watson is learning oncology.
Its learning is an ongoing process, but Watson keeps on learning. After we taught it specific areas and certain types of cancer, it already had a lot of knowledge on the topic, and it is familiar with the terminology, so whenever we want to teach it about a new type of cancer, it learns exponentially faster.
Hedges invited startups to connect with IBM and present them their ideas. Through the project Intu, startups can develop their products and IBM co-finances them with $10,000 to $120,000. Anyone can apply at developer.ibm.com/startups.
IBM also launched a huge competition in cooperation with Xprize for the development of the artificial intelligence worth $5 million.
In the new world, it's not the big fish which eats the small fish, it's the fast fish which eats the slow fish. Be the fast fish!
Talking about the future, Hedges said that they would keep on developing Watson and his abilities.