The recent Steam award nomination system have a category where you can suggest a name to it. This have resulted in some pretty hilarious events such as the savage No Man's Sky brainstorm and naming session. People have soon figured out another use of the system: letting Valve know that we are still damn waiting for a Half-Life 3 game.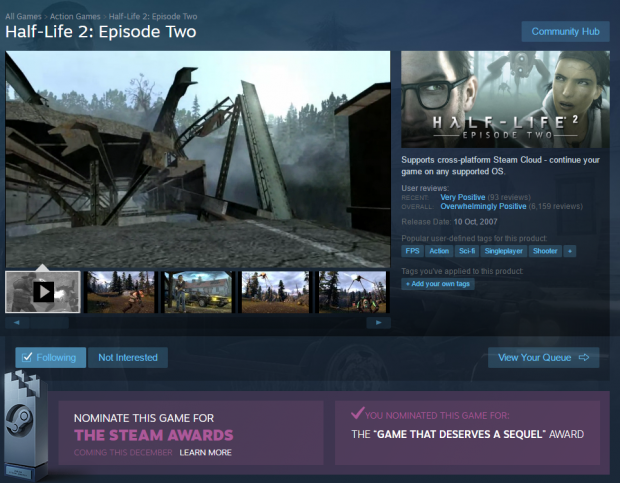 The image has been posted by GruffBarbarian in the Half-Life subreddit. It has since gotten 6439 upvotes and the numbers are rising by the minutes. Half-Life fans can join the movement by doing the same, typing "GAME THAT DESERVES A SEQUEL" in all caps in Half-Life 2: Episode 2 nomination section.
But, Valve already knew that. In a interview with The Washington Post back in 2014 where they talked about Valve business model, Valve Co-founder Gabe Newell said: "The company grew out of trying to think about how to design for the specific business challenges we would have. It's sort of a good news/bad news situation that our industry is changing so quickly."
"If you look at the requirements for just one piece, like art, from one generation of games to the next, it will change radically", he added.
The CEO continued :"You need people who are adaptable because the thing that makes you the best in the world in one generation of games is going to be totally useless in the next. So specialization in gaming is sort of the enemy of the future. We had to think about if we're going to be in a business that's changing that quickly, how do we avoid institutionalizing one set of production methods in such a way that we can't adapt to what's going to be coming next."
That might be our answer to the future of Half-Life 3. With the massive hype that've been build up for the last 9 years. Valve might have simply move on to explore other markets like VR.
To put it into blunt words, at the end of the day, it's way too hard to please the fans without disappointing some of them.