While we might be disappointed with Star Citizen's single player module 'Squadron 42' being delayed sometime into the future, Cloud Imperium Games has teased that it wasn't just a delay because they weren't ready - but they said that Squadron 42 has "grown exponentially in ambition and scope since first pitched in 2012". Remember, Star Citizen's creator Chris Roberts said to us exclusively that he "doesn't care about consoles"... swoon.
The news is coming directly from CitizenCon, and from the man himself - Chris Roberts. During the presentation, CIG provided a massive list of features that Squadron 42 has, and it's beyond impressive. We have the next level of AI in games, as well as an "A-list cast to match any event movie", and so much more. During CitizenCon, Chris Roberts explained about the delay behind Squadron 42, after saying he wanted to do the game right after it had raised over $127 million.
Roberts explained: "We want to do it right. It's really important to do it right. What we're enabled to do by you guys is to do it right. Because if we were in the typical situation with a publisher, they would say, 'Well, no, you've got to make the Christmas (release) window; you've got to get it out. You can do some patches and the DLC and don't worry about the people who won't think it's quite as polished and it's got a bunch of bugs. As much as we wanted to have Squadron 42 for this year, it's not going to be this year. Because from the polish we need to do, it still needs a bit more time".
So instead of releasing it where it's obviously not ready, like No Man's Sky and its horrible time since it was released, Mafia III which launched with abysmal performance - requiring a GeForce GTX 1080 to run at 60FPS on 1080p - instead, CIG is delaying the game until it's finished. This is because they're not bound by a publisher who is forcing them to a release date, even if the game isn't ready.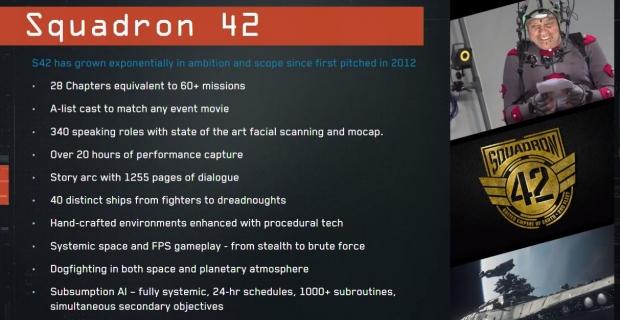 CIG detailed Squadron 42 with:
28 Chapters equivalent to 60+ missions

A-list cast to match any event movie

340 speaking roles with state of the art facial scanning and mocap.

Over 20 hours of performance capture

Story arc with 1255 pages of dialogue

40 distinct ships from fighters to dreadnoughts

Hand-crafted environments enhanced with procedural tech

Systemic space and FPS gameplay - from stealth to brute force

Dogfighting in both space and planetary atmosphere

Subsumption AI - fully systemic, 24-hr schedules, 1000+ subroutines, simultaneous secondary objectives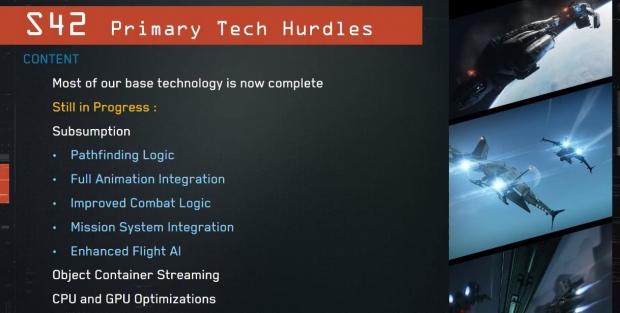 The development team are still working on parts of Squadron 42, but the "base technology" for the game is "now complete". The parts that are still in progress are the advancements CIG are working on 'Object Container Streaming' and the usual CPU and GPU optimizations, and finally the Subsumption AI technology, with the team "still in progress" in the following areas:
Pathfinding Logic

Full Animation Integration

Improved Combat Logic

Mission System Integration

Enhanced Flight AI
No shortcuts!
Cloud Imperium Games aren't the typical lazy developers or publishers who will push out an unfinished game, with Roberts saying during CitizenCon in regards to content that "all chapters and gameplay features are at grey-box or better". The term "grey-box" is something Roberts explains as when they've had "everything blocked out, all the action is done" and it's balanced - but isn't 100% polished just yet. One of the chapters are being taken to 100% 'shipping quality', which should hopefully mean it's pretty perfect.
The procedurally-generated landscapes on planets are impressive, something that you can see at the 1:25:20 mark of the video, the huge sand worm everyone is talking about is at the end, at 1:54:28.
During the demo, you can see some of the most impressive graphics to have graced the PC... and I can't help but wonder: is this the new Crysis in terms of pushing the boundaries of what's possible graphically on the PC? It sure does look like it.