Guerrilla Games is really excited about its massive new game Horizon: Zero Dawn, saying that the game's story will blow you away even if you really don't like stories.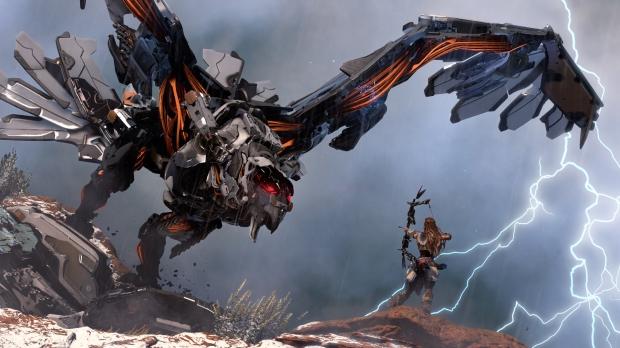 After seeing a bunch of trailers for Horizon: Zero Dawn, I have to say the game looks absolutely gorgeous. But it's more than just beautiful; it pulls you in, and makes you actually think about this crazy world full of titanic metal dinosaurs, primal magic, and impressive-looking shooter mechanics. It has this distinct mystique about it, and it's clear that Guerrilla Games cares a ton about this project. To match these striking visuals, Horizon: Zero Dawn will apparently have a "really fresh concept," with Fallout: New Vegas writer John Gonzalez helping pen the narrative.
"When I've seen some people saying 'Ah, I don't care about the story, it's not going to matte,' [but] I think it is going to matter. I think there's going to be huge amounts of enjoyment to be had for this game even for people who don't care about the story," Lead Writer John Gonzalez told Game Informer.
"People who are story junkies, for people who love collecting audio logs, text logs, people who want to have a grand narrative to their game, I think that they're really going to be surprised and delighted by what we've prepared for them."
Read Also: Horizon Zero Dawn is story-driven, doesn't need multiplayer
Gonzalez might be tooting his own horn a bit, but it's still interesting to see how emphatic he is about the project. It shows he's really into it, really passionate, and that will likely translate to quality work.
In fact, Gonzalez says he was excited right from the start. As soon as Guerrilla contacted him, Gonzalez knew he had to be involved with Horizon: Zero Dawn:
"The first time that Guerrilla contacted me was in Summer 2013, I had a conversation with Game Director Mathijs De Jonge and Lead Producer Lambert Wolterbeek Muller. I was just really blown away by what they were looking to do, it's obviously a really fresh concept. And the ambition for what they wanted to do was thrilling, I couldn't resist.

"It was the opportunity to create something really fresh. I felt incredibly fortunate to have had the opportunity to create one of the most loved IPs in the history of video games with Fallout, and also one of the most beloved IPs in the history of...history, you know, Lord of the Rings. But this was obviously something really fresh, it was the opportunity to create something new with a group of dedicated game developers who were incredibly excited about what they had imagined.

"The basic concept that you have this far future world that is populated by these huge mechanical beasts and the humans are sort of living at the feet of these behemoths, in a kind of primal or primitive tribal state. That was something that just really struck me as a strange juxtaposition, I immediately was curious about how that world came to be. So my imagination got hooked by that, I felt like I had to get involved in some way just to make sense of that for myself, I really wanted to understand how that world came about."
Read Also: Horizon Zero Dawn running at 4K on the new PS4 Pro
Horizon: Zero Dawn will launch exclusively on the PS4 with PS4 Pro support on February 28, 2016.