MSI has just announced its new GeForce GTX 1060 3G range of graphics cards, which will be mostly the same as the normal GTX 1060 except it has 3GB of VRAM instead of 6GB of VRAM.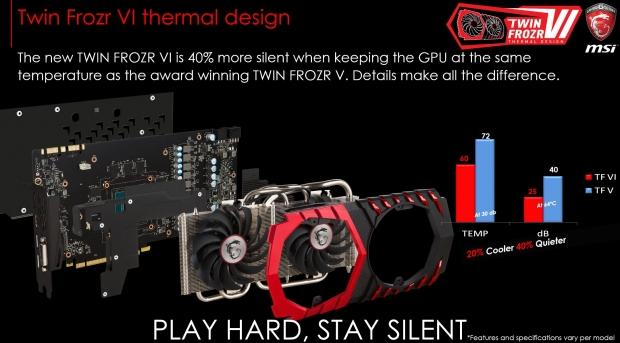 There will be five different models of the GTX 1060 3GB from MSI, with the GeForce GTX 1060 GAMING X 3G, GTX 160 GAMING 3G, GTX 1060 ARMOR 3G OCV1, GTX 1060 ARMOR 3GV1, and GTX 1060 3GT OC graphics cards. There are varying clock speeds, with the GTX 1060 GAMING X 3G featuring its GP106 GPU clocked at 1594/1809MHz for base/boost, respectively. The GAMING X cards will feature MSI's infamous TWIN FROZR VI cooling technology, while the ARMOR models will feature the ARMOR 2X cooling tech.
As for pricing, we should see MSI's GeForce GTX 1060 GAMING 3G priced at around $215, while the GAMING X will be a little more expensive, and the ARMOR models a little cheaper.