Modern Warfare Remastered side-by-side graphics comparison
Modern Warfare Remastered breathes new life into the original with dramatically upgraded graphics and effects.

Published Sat, Jul 16 2016 1:07 PM CDT
|
Updated Tue, Nov 3 2020 11:59 AM CST
Activision released a new in-game campaign trailer for Modern Warfare Remastered, showing off the mission Crew Expendable rendered in the enhanced new graphics. Naturally the remaster looks quite impressive, with improvements across the board, but gamers are eager to just see how big of a leap the new version is over the beloved 2007 original. The results show there's a world of difference between the two games.
YouTuber Candyland has just posted up a video that compares the new Modern Warfare Remastered side-by-side against the original Modern Warfare. Even though the original is running on PC with max graphics settings, MW: Remastered gives it quite a thrashing in every way possible with eye-popping upgrades to lighting/shadows, water effects, atmospheric fog/smoke effects, character facial details, depth of field, particles--and pretty much everything else.
It's also worth noting that most of the video compares still screenshots against one another rather than actual video, but the last minute and a half is side-by-side gameplay footage. Modern Warfare Remastered is looking absolutely amazing, and Call of Duty fans are still pretty mad about having to buy the new CoD: Infinite Warfare to get it.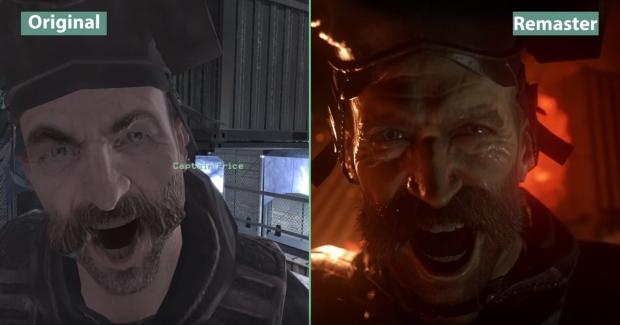 Call of Duty 4: Modern Warfare Remastered comes free with Call of Duty: Infinite Warfare, and won't be sold separately. MW: Remastered comes with a full remastering of the original campaign as well as 10 multiplayer maps, and will be available when CoD: Infinite Warfare launches on November 4, 2016 on PS4, Xbox One and PC.
We've also included the new Modern Warfare Remastered "Crew Expendable" trailer below.
Related Tags