Nintendo is launching a mini NES with 30 built-in games for $59.99
Nintendo will be releasing a mini NES system with 30 built-in games in November, will cost just $59.99.

Published Thu, Jul 14 2016 8:00 AM CDT
|
Updated Tue, Nov 3 2020 11:59 AM CST
Nintendo is riding the marketing wave of Pokemon GO right now, with the announcement of its NES Classic Edition. Nintendo's upcoming NES Classic Edition is a mini NES system with 30 built-in games, and it's going to sell like hotcakes with its $59.99 price.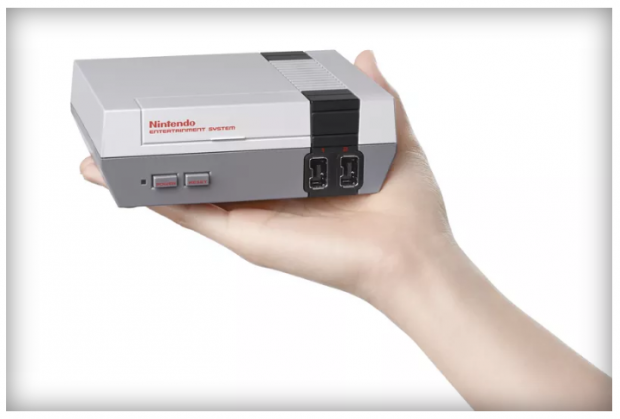 The NES Classic Edition launches in November, and will connect to your TV through HDMI, and it'll also include a controller that will be designed to work just like the original NES controller. The new controller will also connect to a Wii Remote, which will allow you to play Virtual Console games on a Wii, or Wii U console.
The new NES Classic Edition will feature something we all wish the original NES did: multiple suspend points, which will mean you won't need to find passwords when you want to start playing a game again. Nintendo will be making its NES Classic Edition available on November 11 for just $59.99, with the 30 games included:
Balloon Fight

BUBBLE BOBBLE

Castlevania

Castlevania II: Simon's Quest

Donkey KongTM

Donkey Kong Jr.

DOUBLE DRAGON II: THE REVENGE

Dr. Mario

Excitebike

FINAL FANTASY

Galaga

GHOSTS'N GOBLINS

GRADIUS

Ice Climber

Kid Icarus

Kirby's Adventure

Mario Bros.

MEGA MAN 2

Metroid

NINJA GAIDEN

PAC-MAN

Punch-Out!! Featuring Mr. Dream

StarTropics

SUPER C

Super Mario Bros.

Super Mario Bros. 2

Super Mario Bros. 3

TECMO BOWL

The Legend of Zelda

Zelda II: The Adventure of Link
Related Tags