I'm someone who zealously champions virtual reality. I'm also a gamer who thinks gaming in VR is the best thing since the Nintendo Gameboy. But when people ask me what will propel VR into the stratosphere and get the technology into homes, I have one confident response: "I'm not sure, but it won't be video games." Today, Greenlight VR's 2016 Virtual Reality Consumer Report has been published and lends some solid data to my speculation. Interestingly, games don't even crack the intended use scenarios.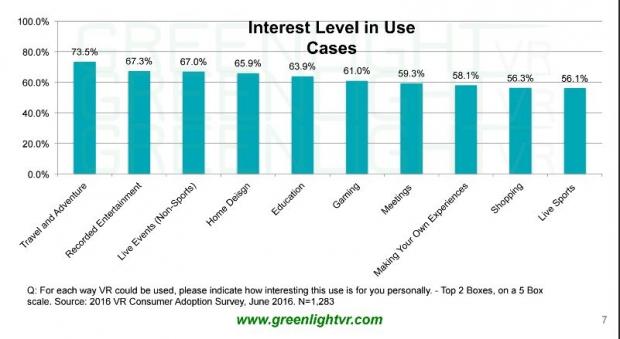 Greenlight VR polled more than 1200 random people aged 18-60 about a wide range of VR-related topics, including their personal interest in a number of use categories, their attitudes toward adult content in VR, and their purchase intent over the next 12 months. Interestingly, the results indicate that gaming is lower on the list -- not 2nd, not 3rd, but 6th.
Taking the lead are travel, tourism, or adventure (73.5%), movies and recorded videos (67.3%), live events (67.0%), home design (65.9%), education (63.9%), and gaming (61.0%).
"Overall, we were struck by the strongly positive and broad interest in VR in general, and in specific uses in particular," said Steve Marshall, senior vice president of research and consulting for Greenlight VR. "Given all the attention in the press, we expected to find gaming as the primary consumer interest in VR. The reality is that consumers have a wide variety of interests for using VR - starting with travel and adventure."
If we're being honest with each other, that 2nd category (movies and recorded videos) is probably buoyed by the increasing prevalence of VR porn, and we've spoken to AMD's Roy Taylor on multiple occasions about how invested Hollywood already is in creating VR experiences based on popular box office franchises. And live events? Who doesn't dream of seeing a Foo Fighters concert from the nosebleeds without the risk of an actual nosebleed, or watching the Winter Olympics up close and personal without leaving their home?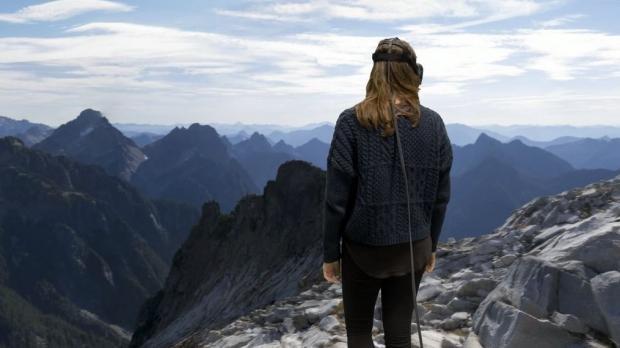 Home design though? Above gaming? That one took me a bit by surprise.
Gaming certainly dominates the headlines, but VR has so many applications across every industry that touches our daily lives that its explosion into the mainstream is inevitable. The catalyst still remains unknown, but if this survey is any indication, virtual tourism may lead the charge.