Some people cry over things like Final Fantasy VII Remake*. Others shed tears of unbridled joy when they discover the existence of Shenmue III. But I'm one of those weirdos who just sat here and shrieked at the realization that I'll be playing Fruit Ninja -- the original one, from Australian developers Halfbrick -- on my HTC Vive by month's end.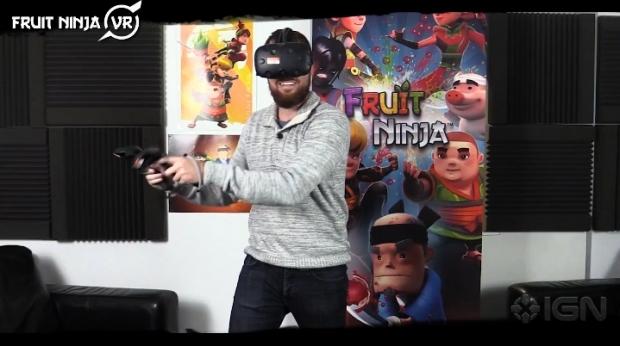 "After the latest VR technology was released, we felt that there was no better game suited to VR than Fruit Ninja," Halfbrick's Adam Wood, product manager for Fruit Ninja VR, told IGN earlier today. "The simplicity of Fruit Ninja with the total immersion of VR creates an experience like no other."
Simplicity and VR get along very, very well. That's because with something like the Vive's hyper-accurate motion tracking, your hands and arms quickly transform into whatever weapon or other implement is in the game world. Nailing targets with a bow & arrow? Perfect. Swinging a sword? Super satisfying. It's also more challenging than you might expect, thanks to the 1:1 tracking.
Fruit Ninja on the Xbox Kinect? Not so satisfying.
Halfbrick says that Fruit Ninja will land on Steam for the HTC Vive by the end of June, and will later be released for Oculus Rift, Google Daydream, and PlayStation VR before 2016 comes to a close. It will ship with the modes you're all familiar with: Classic, Zen, and Arcade. But it'll also feature a Vs. Multiplayer mode. Perhaps we'll hear more about that at E3?
Seriously, I'm super excited about a 6 year old smartphone game. Trust me, you have to try this in VR.
*Full disclosure: I also cried when Square announced Final Fantasy VII Remake. Because of course I did.